The Ultimate Answers to Planning a Maui Vacation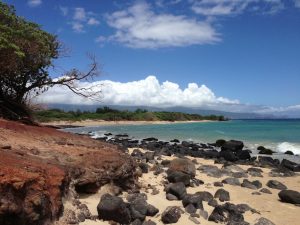 Over the years people wanting to visit Hawaii have come to me to get their questions answered. This blog post covers the most frequently asked questions. These are obviously not all of the choices.
Every possible scenario can not be covered in a single blog post. There are many variables to consider. For example, you may want to stay in a yurt in the jungle, if so let's be friends! haha.
You may want to stay for a week or 6 months. You could be coming from the mainland US or from a land farther away.
Do you want to surf, bike, hike or stay at the hotel pool and thaw out or cool off?
You may want luxury or a more affordable vacay.  I just went down the middle of the road with parts of this blog. I hope you enjoy it.
WHEN IS THE WEATHER THE BEST?
Maui gets the least rain summer, unless you are looking rain and then Winter is better. More rain means more rainbows and more spectacular waterfalls. It never gets too hot or too cold. However, when exploring the summit of Haleakalā at 10,023 feet above sea level, it is varying degrees of cold depending on the time of the year and time of day. Dress warm. This winter 2019 Haleakala got lots of snow.
WHAT IS THE MOST AFFORDABLE TIME OF YEAR?
End of August, September and October
WHEN IS THE BEST TIME OF DAY TO ARRIVE ?
When booking your flight make sure you land early enough to get your rental car and then some groceries.
WHERE SHOULD I STAY?
Rather than staying in a hotel you might consider renting an eco-friendly condo with a kitchen. Or a hotel that cares about the environment like Maui Coast Hotel. Again depending on the experience you are seeking. Kihei, being on the leeward side of the island, gets much less rain. Kihei is centrally located as it relatively the halfway point to everything that can be done on the island.  If you prefer a location more tucked away but still accessible to the rest of the island, try Lumeria Maui in Makawao.
WHAT SHOULD I DO ABOUT FOOD?
You might as well get groceries if you have a kitchen. This will save you time and money compared to dining out constantly. Breakfast for a family of four can come close to a $100. There is a Whole Foods Market and a Costco near the airport. Our Costco has a great selection of organic produce and packaged foods. You have to have a membership to shop at Costco.
If you want an amazing local grocery shopping experience, visit Mana Foods in Paia. This is where the best organic and local produce can be bought at more reasonable prices.
– Parking Mana Foods – There are two parking lots one next to Mana and another a short 3 minute walk up the mountain (Mauka) near the post office on the right. Parking in this lot is free for an hour with your Mana receipt. Parking on the road is also possible in designated spots. Just go to the upper lot it is so much easier.
I saved the best for last,  for the freshest and best produce and some prepared food, the farmers markets will save you a small fortune. The food at the farmers market is a dream come true. So get only what you absolutely need at the store.
CAN YOU RECOMMEND RESTAURANTS FOR DINING OUT?
Maui has many amazing farm to table restaurants.  Artistically creative meals that are as healthy as they are delicious. Food made with love and intention.  My two personal favorite conscious minded restaurants are Maui Kombucha in Haiku and Flatbread Company in Paia.
WHERE CAN I FIND THE LEAST CROWDED AND MOST BEAUTIFUL BEACHES?
Start at the farthest west side shore of Kapalua and make your way towards the south side to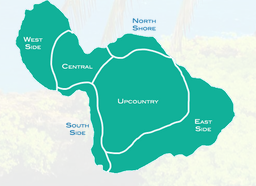 Makena.
Kapalua Bay
Napili Bay
Kaanapali
Kihei
Keawakapu
Wailea
Little Beach
Makena Beach or Big Beach
WHAT ARE ACTIVITIES ARE AVAILABLE?
Parasailing – Due to Humpback whale migration parasailing is available from May 15 – Dec 14 in Lahaina and Ka'anapali.
Zip Lining – Visit Skyline Eco-Adventures, located upcountry. 
Surf lesson – Hang Loose Surf Club in Lahaina
Boating Activities –
Fishing – The ocean can get rough around Maui. If you take a fishing charter they will not take you back to shore because of a little or a lot of sick. You will not have a good time so do what you have to do to prevent getting sea sick. If getting sea sick is not a concern, you will have a great time.
Whale Watching – Boats will take passengers from Lahaina Harbor or Ma'alaea Harbor.  Try Pacific Whale Foundation, a non profit that supports and advocates for whales and our ocean.
Snorkeling/Diving – Boats will take passengers from Lahaina Harbor or Ma'alaea Harbor.  Ask about a Molokini snorkeling trip also a great opportunity to see sea turtles.  Try Hawaiian Paddle Sports for eco-friendly adventures.
WHERE ARE KID SAFE PLACES WHERE THE KIDS CAN HAVE FUN IN THE SURF?
Keiki (children) love Boogie Boards, we call them Body Boards here. They are great fun for kids of all ages and parents too. Here is a kinder gentler sandy Maui beach for the kids and adults to learn to surf:
D.T. Fleming Park in Lahaina – is a great sandy beach to take the kids to play in the water with their body boards. And parents, be sure to get in the water too. Whether you are 8 or 80 this is one of the most comfortable sandy beaches around. If you have any questions there is a lifeguard there to assist. There are bathrooms and a place to wash the sand off.
WHERE CAN I SEE SEA TURTLES?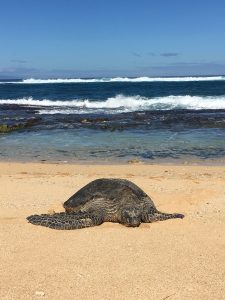 Always be respectful of the turtles by keeping hands to yourself, and not offering food to the turtles. It is never okay to ride a turtle or touch them on land or in the water. The beach is their bedroom, they come to the beach to sleep. Be sure to show the turtles the same quiet you would expect if you had a sleeping baby.  Ten feet away is a safe distance to observe these wonderful animals.
Honokeana Cove In front of Napili Point Condo often has turtles to observe from a distance.
– Parking possibly available on the street. Use public beach access.
Black Rock
A great snorkeling spot and a great place to see Sea Turtles. is black rock to jump from.
– Parking in a smallish parking lot that fills up quick. There is also a much larger parking lot at Kahekili Beach Park close by.
Ho'okipa is a great place to see sea turtles in the summer when the surf is not as big, although they can be seen here all year.
– Parking – there is one way into the park and depending on where you go in Hookipa there are one or two ways out. If you stay in the upper lot you can leave the same way you entered. However, the ramp is one way. If you drive down it you have to go out the other side. Traffic can get tight down there with all of the surf activities and so many people coming to see the turtles. If you are there to see turtles and not carrying a surfboard, windsurf gear or anything heavy you might want to try to park up top and walk down.
WILL I BE SAFE?
The ocean can be dangerous – Be aware of your surrounding and always changing weather conditions regarding wind, sun and surf.  Check ConsciousMaui.com's surf and weather report daily before you head out into the wild.  If you are unsure, please talk to a lifeguard about current conditions.
WHAT ABOUT MOTION SICKNESS?
Maui has some winding roads that can throw you off balance.  Most important: eat something and bring snacks. Ginger is great for keeping yourself feeling good, it won't make you sleepy and has only good side effects.  This also works for boat outings.
WHAT DO I HAVE TO DO TO SEE A HALEAKALA SUNRISE?
If your plans include catching a Haleakala sunrise be prepared to wake up very early and have a reservation made way in advance, like 2 months in advance. Haleakala can only hold a limited number of cars. If you are unable to get a reservation for sunrise all hope is not lost you can catch the Sunset. At the time of this writing, March 2019, no reservation is required to view sunset from the crater. On your way up to the summit of Haleakala you can visit Makawao, the fun cowboy town and catch some stunning bi-coastal views of the island on your way up.
WHAT IS THE BEST WAY TO GET TO HANA? (hah-na) (not pronounced Hannah like the girls name)
The road to Hana  from Haiku is not straight and if there are more than two of you in the car someone is going to be sitting in the backseat.  There is more than one way to get to Hana.   The trip to Hana can be done in reverse. I'll explain, Most people start out on the north shore and make the drive from Haiku towards Hana. It can also be done backwards. You can also get to Hana by starting in Kula and following the road southwest on Piilani Highway (Hwy 31) toward Kaupo. This road will take you east around the backside of Haleakala.
HOW CAN I MAKE THE MOST OF MY LAST DAY ON MAUI?
If you booked a return flight in the later afternoon there will be time to spend at historic Iao Valley. This is one of my favorite places on the Maui. I love looking at all of the coffee growing in the shade of the Kukui canopy and beautiful rocks and observe their subtle color differences. After spending the day at Iao Valley take a little bit of time and photos at Kanaha Beach Park. Kanaha is close to the airport and car rental return so you can really stretch your stay to the very last minute.
I hope you find value in the time spent reading this blog post. If you haven't already, you can follow us on facebook and as always tell your friends about ConsciousMaui.com. If you you have any questions that you need to get answered reach out to us on facebook. We would love to hear from you.
Aloha