The $70,000 ʻŌhiʻa Challenge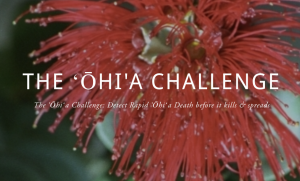 The Sacred trees of the ʻŌhiʻa forests of Hawaii and now Kauai are dying off in large numbers. These trees are culturally and ecologically significant here in Hawaii.  The ʻŌhiʻa trees are both a keystone and a pioneer species. So not only are these trees one of the very first life forms to grow in the harsh conditions of lava fields or on mountain ridges, once established the ecosystem coexisting with the forest is dependent on the ʻŌhiʻa for survival of most life forms thriving under the tree canopy.
Scientists are attributing the tree deaths to two types of fungi that were not previously known until the ʻŌhiʻa trees began to die. Conservation X Labs is looking for people willing to collaborate and offer a solution to stop this disease called ROD or Rapid ʻŌhiʻa Death. Additionally, there is a generous prize being offered to anyone able to come up with a reasonable solution.  The challenge began accepting submissions on September 5th 2018 and will accept submissions until April 8, 2019.
More information can be found on the ConservationX website.  For complete instructions on how to submit an application please go to www.SavetheOhia.org