Reasons to Leave Maui Rocks and Sand Behind
It is said that removing rocks or sand from the Hawaiian islands will result in the collector experiencing a series of unfortunate events.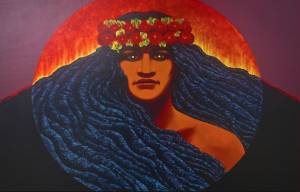 The Hawaiian Deity, Pele is the creator of the the Hawaiian Islands, she is the goddess of fire and volcanoes in Hawaiian religion.  There is a Hawaiian legend that states removing rocks or sand from the Hawaiian Islands would cause Pele (peh-leh) to place a curse on to anyone who takes rocks or sand away from the islands, as Pele's rocks and sand are essentially her body. Although, there is no way to scientifically prove that these curses do or do not exist and little is known about when or how the legend began it might be better if we agree to leave the landscape the same way we found it.
There are laws protecting the natural landscape in many parts of the Hawaiian Islands that would hopefully prevent people from taking Hawaii away one piece at a time. It's illegal to take rocks and minerals from any national park or to take sand and rock from any public beach.  Approximately 10 million people visit Hawaii in a year, if everyone took a piece of Hawaii home with them, it would be obvious. So please take as many photos as you want and let the island stay here.
Haleakala National Park on Maui receives over 100 rocks per month from tourists wishing to break the curse. Additionally,  Haleakala National park is not the only place receiving cursed rocks and sand in the mail, the actual number of rocks being returned to the entire island is much much higher. Before these rocks and other natural treasures can be placed back into the wild they must be stored in a freezer for 30 days to sanitize them as to not inadvertently introduce an unwanted bacteria or virus to our delicate ecosystem. The rocks can not be returned to the crater because there is no way to know exactly where they were taken from so the rocks will be placed in the gardens just outside the visitor center as not to make a mess out of the geologic record. So let's save everyone the trouble and leave them where they are.
If it's too late and you already removed rocks and now find yourself wishing you hadn't, you can mail the sand or lava rock back to the islands just in case. The packages can be mailed to the appropriate address below, depending on what is being sent and to which island. Please enclose a note indicating from where the sand or rock was collected. If you need confirmation that your delivery is received you will want to  discuss that with the post office at time of mailing by requesting a tracking number or a confirmation receipt.
Here are some addresses where you may mail your sand and rocks back to their island home: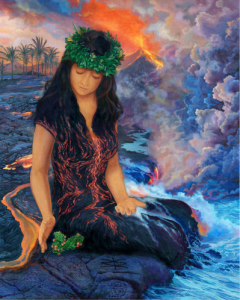 Hawaii State BEACH SAND can be mailed to:
Division of State Parks,
P.O. Box 621
Honolulu, HI 96809
If you let them know where you got the sand they will do their best to get it home.
Big Island of Hawai'i LAVA ROCKS should be returned to:
Hawai'i Volcanoes National Park,
P.O. Box 52
Hawai'i National Park, HI 96718-0052
Maui, Lanai or Molokai Island LAVA ROCKS can be returned to:
Haleakala National Park – on Maui,
P.O. Box 369
Makawao, HI 96768-0369
Oahu Island ROCKS, may be mailed to:
Bernice P. Bishop Museum, State Museum of Natural and Cultural History,
P.O. Box 19000-A
Honolulu, HI 96819
Kauai Island ROCKS may be returned to:
Kokee Natural History Museum,
P.O. Box 100
Kekaha, HI 96752
________________
Top image of Pele, Goddess of Hawai'i's Volcanoes, by Herb Kawainui Kāne available at http://herbkanehawaii.com/.
The painting of Goddess Pele (bottom left) is the work of artist, Bruce Harman.
If you are interested in collecting some of his art it is available for purchase at https://www.harmanvisions.com/ or at
the Sacred Garden of Maliko at 460 Kaluanui Rd, Makawao, Maui, HI.