Protect the Ocean's Reef by Using "Reef Safe Sunscreen"
What do you know about REEF SAFE SUNSCREEN?
The American Cancer Society has been telling us for decades that in order to protect ourselves from the sun's damaging rays we must use sunscreen to prevent skin cancers such as melanoma. But what is sunscreen doing to our marine life?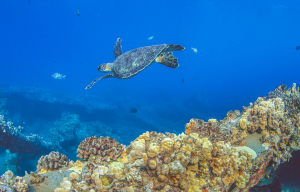 As you may already know, the health and vitality of our marine life is all connected, in one way or another, to the health of the ocean's reef. The tiny organisms that build the reef and live on/in the reef are extremely susceptible to stress. Stress can be as simple as touching the coral or as big as temperature changes.  Sunscreen pollution is a major stressor for the reef surrounding our beautiful island.
The two main ingredients used in many brands of sunscreen — oxybenzone and octinoxate — are known to harm and kill coral.  If we use these harmful chemicals to block out the sun while we are swimming or snorkeling the chemicals wash off our bodies and the result is sunscreen pollution. With more than 2.5 million people visiting Maui every year, the damaging effects of chemical sunscreens can really wreak havoc on our delicate marine ecosystem.
Beginning January 1, 2021 it will be illegal for people in Hawaii to sell or distribute the sunscreens containing oxybenzone and octinoxate.  It is estimated from 6-14 thousand tons of sunscreen are washed into our oceans annually worldwide.  In one study they found 44 percent of West Maui's coral was bleached due to stressors. Although there are more conditions that are affecting the health of our reefs, reef safe sunscreen is something we can address here and now.
What can you do to help?
When it comes to sunscreen only use the "REEF SAFE" kind. Don't wait until it is legally mandated. Especially if you are going into the ocean!
Raw Love Sunscreen is a locally made sunscreen it is available in stores all over the island. It comes in a cute metal tin and makes a great souvenir or a gift for someone you love.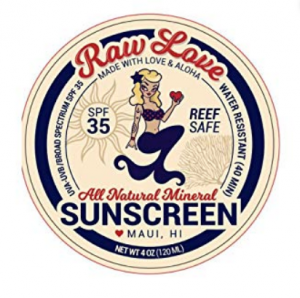 Otherwise find other sun protection products that contain mineral products like zinc oxide and/or titanium dioxide.  Look at your local health food market to find some reef safe sunscreen options that are naturally derived.  A couple of mineral based brands offer a skin tone tinted product. Check out tinted sunscreen by Badger or Raw Elements.
To simplify the decision process:
1. Choose sunscreen with the "REEF SAFE" labeling.
2. Avoid marine-toxic chemicals, oxybenzone, octinoxate, butylparaben, retinyl palmitate, and 4-methylbenzylidene camphor.
3. Choose mineral-based, non-nano sunscreens, that do not absorb into the skin, zinc oxide and/or titanium dioxide.
Protecting marine life is very important to the entire ConsciousMaui.com team. Hopefully you are already using REEF SAFE SUNSCREEN and if not I hope this blog helps you decide to make a change.
We appreciate you sharing this info with others. Feel free to share this article on social media. I hope you found value in this information. Please visit ConsciousMaui.com anytime you are looking for sustainable Maui businesses. If you have a sustainable Maui business you would like to promote please reach out to us today! We would love to support your sustainable choice!
Photos from Raw Love Sunscreen
Mahalo