Maui Invasive Species- Coqui Frog
Got coqui?  The Maui Invasive Species Committee (MISC) needs our help.  Over the years Hawaii has been subject to many invasive species that have found there way to the islands and created disturbances in the ecological balance.  Coqui frogs are on of the latest animals on this list.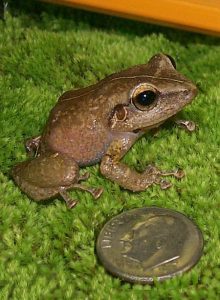 The coqui frog has no natural predators and besides disrupting the natural eco-system by eating large quantities of bugs that alter habitats and pollination capabilities it has a loud disruptive mating call.  This "ko-kee" noise is a loud chirping that occurs at dark or on rainy overcast days.  One frog on it's own can be annoying but add to it's populations and it can be quite disturbing.
The coqui is usually less that one inch long.  The males are the ones with the loud 'Ko-Kee' call and the females are slightly larger than the males.  The lifespan of these frogs is usually around a year once they reach adulthood.  The females can reproduce between 4-6 time a year laying approximately 30 eggs at a time.  That means a single female can have up to 180 offspring a year.  This is why we need to keep this species in check.
If you hear a coqui on your property or near-by please report it to MISC.  They keep track of the spread of these little buggers and will bring a team in to help eradicate them if necessary.  But you can do your part too.  Coqui like to live in green waste.  By keeping plant debris like banana leaves and ti leaves cleared you will lessen the opportunity for them to populate your environment.
You can also help eradicate these invasive creatures by using a citric acid solution that is approved for use in Hawaii.  You can pick it up at MISC at 820 Piiholo Road in Makawao during regular business hours, phone #573-6471 .
Listen to the video to hear a single coqui frog and listen to the sound cloud recording to hear many frogs at one time.  After hearing these you will understand this is an issue that we want to manage before it gets more problematic.
MISC chart to recognize coqui frogs versus greenhouse frogs-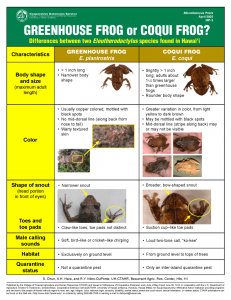 For more information on how to make your yard less frog friendly go Here.
For more information on the coqui and how to identify and eradicate them go Here.
For more information about Maui Invasive Species Committee go Here.
To get involved with MISC go Here.
To volunteer for other Maui non profits, go Here.