Mālama 'āina, One Diaper at a Time

Kōkua Diaper is a Native Hawaiian and 'ohana-owned cloth diaper service. We are excited to have Maui raised Melelani Jones share with us about her sustainable business she and her husband have brought to Maui:
My name is Melelani Jones and my husband L.a. Jones are the founder and owners of Kōkua Diaper Service. Our story begins in Brooklyn, NY known for its skyscrapers, broadway shows, millions of residents, and not so clean bustling streets. In 2017 I became pregnant with my first keiki and the thought of diapering my keiki and what my options were suddenly became very bewildering.
My mother Carolyn Kuali'I, which by the way had six children and cloth diapered all of us. She is a total superhero to me, said "Mele, you need to cloth diaper your baby!" My first thought was "ok, I got this" but as I started searching on the internet the information was so overwhelming!
It left me with so many more questions and a feeling of "I don't even know where to start."
A few weeks later she mentioned that when she cloth diapered us she used a service. My first initial thought was "there is no way shape or form that NYC has a cloth diaper service."
Immediately after our conversation I got online and googled cloth diaper delivery service and behold there was one located 10 blocks away from me in Brooklyn called Diaperkind! I felt like my prayers were answered and they were!
My husband and I went to a cloth diaper 101 class that they offered and the next day we signed up for service. We loved the fact that they provided everything we needed and laundered all of our lil girl's dirty diapers and once a week brought fresh clean ones right to our door. It was amazing!
A few months into our diaper service I was so interested and pleased with the service I wanted to see if they had any part-time work available so I could get out of the house being a new mom and still feel connected to the community I lived in. Shortly after that I began working with these wonderful people.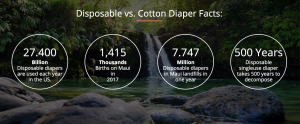 A few months down the road my husband and I were thinking of leaving NYC. It was just getting tougher to live in the city especially that all of my husband's family that were from Brooklyn moved away so there was nothing really holding us back besides his job and there was this really strong pull in me that I wanted my daughter to grow up the way I did on Maui. Then I had a revelation." What if we bring a diaper service to Maui? "Not only will we be back with my ohana and my lil girl will be surrounded by all of her Aunties, Uncles, and cousins but we would be giving a great service to the ohana and beautiful island of Maui that means so much to me and my ohana.
After some debate and with all that I learned working with the lovely people at Diaperkind all signs pointed to Maui. I began to do some homework and digging deep on the effects disposable diapers have on the environment and the results were staggering! Disposable diapers are the 3rd highest consumer product in the world that end up in landfills. Also, the process in which they are made uses a shocking amount of natural resources just to be used once and then thrown into a landfill. For example. It takes 250,000 trees times that number by 100,000 and that's what it takes to produce disposables just in the US alone every year! And that is just the beginning process! Another dirty deed about disposables they don't mention is the dangerous chemicals that are in these single-use products. The main reason why disposable diapers are absorbent is due to the wood chipping process and what they use to refine it. In this process they use a chemical called sodium polyacrylate which is toxic if inhaled or ingested. Sodium Polyacrylate is an absorbent gel that is responsible for absorbing moisture inside the diaper.  It was once present in tampons but was removed for causing Toxic Shock Syndrome.  Sodium polyacrylate has been implicated as a contributing factor of staph infections.  It is a skin irritant, because it is able to absorb all of the oils and moisture from the skin, yielding a drying effect.  It is no surprise, then, that problems like diaper rash are almost non-existent for babies having cloth diapers. Upon researching these staggering and frightening facts and talking one-on-one with families about their experiences switching from disposable to cloth it was a no brainer for use to make the move and bring something so beneficial to the ohanas of Maui.
So, we packed our bags and we headed home with our mana'o on cloth diapering to bring home to Maui.
Now, 6 months later after a lot of hard work, sourcing and getting all our product on island, and  many of sleepless nights, (I have a 18 month old) Kōkua Diaper is finally here!
We at Kōkua Diaper are proud to offer the ohana of Maui a weekly supply of unbleached organic cloth diapers laundered and delivered straight to your door. We use an EPA-plant derived washing process that ensures the cleanest diapers ph balanced so the only thing touching your keiki's bottom is cotton. To ensure the smallest eco-footprint possible our commercial machines are big enough to wash multiple ohanas diapers at a time. Upon signing-up for diaper service, each ohana is assigned a number that will appear on their diapers this way allowing you to get the same exact diapers back every week. No mix ups.  We also supply starter kits with everything you need to help you get started on your cloth diaper journey. Taking all the guess work of "What do I need" out. Our shop on the website has everything you need to keep your Cloth diaper arsenal going. Diaper covers, On-the-go wet bags, Butt balms, Cloth wipe solutions. We got you covered.
We also provide free In-home Cloth Diaper 101 upon sign-up for a hands-on demonstration.
Everything we offer is ethically sourced and the amazing people that manufacture our diapers for us are GOTS certified under the EKO Sustainable Textile Scheme. The aim of the standard is to define world-wide recognized requirements that ensure organic status of textiles, from harvesting of the raw materials, through environmentally and socially responsible manufacturing up to labelling in order to provide a credible assurance to the end consumer. Majority of people have no idea the affects the Textile industry has on our environment so this was very important to us to work with someone certified.
Needless to say, we at Kōkua Diaper have really put our hearts and souls into this. We hope it translates and we are well received by the ohana of Maui. Truly our mission is to help guide, give education, and strive to make the swap from single-use consumer disposables diapers to cloth diapering seamless and convenient and to "Mālama 'āina, one diaper at a time."
Please spread the word Maui! We make a great baby shower gift.  Check out our website www.kokuadiaper.com.  Give us a follow on Instagram and Facebook and keep an eye out for monthly Cloth Diaper 101 classes coming to an area near you soon.
Much Mahalo from our ohana to yours,
Mele, L.a., and our lil Hali'a Jones
Our mission: Mālama 'āina, one diaper at a time.

Please see Kōkua Diaper contact information Here.
Check out other Eco-friendly businesses Here.
Check out other culturally significant and Hawaiian owned businesses Here.