Makaʻiwa Keiki- Learning 'Ōlelo Hawaiʻi
Maka'iwa Keiki is an engaging animated series of stories that strives to promote 'Ōlelo Hawaiʻi and Polynesian Culture through Educational Entertainment for Keiki (children) of all ages.  This fun and delightful animation will have you singing along in no time learning the basics of the Hawaiian language.
Native Hawaiian artist from Kaua'i Chad Martin and his wife Lisa Chaly teamed up to create this wonderful family friendly animated series. Martin, a graphic designer by trade, uses his passion for Hawaiian history and culture to fuel his creative designs. Chaly, an artist, writer and singer added her talents by singing and creating songs for the series. They were inspired to create the series after initially looking for entertainment and education for their small child and found no Hawaiian language material. So they decided to create it.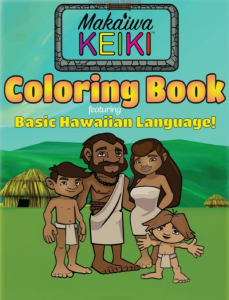 "Our mission is to promote Hawaiian and Polynesian culture through educational entertainment for children of all ages. We continuously work to create engaging content that teaches 'Olelo Hawai'i (Hawaiian language) in a playful and inspiring way to for everyone, especially keiki."
This series creates an easy and fun way to learn Basic Hawaiian language that is appropriate for young children but also engaging for adults. Knowing the importance of children seeing images reflective of themselves and their culture, the addition of this Hawaiian educational series brings greater acknowledgment of personal identity for young children in Hawaii.
Martin has also created a coloring book that goes over basic terms and pronunciations of numbers and commonly used words. This is a wonderful tool for learning Hawaiian language and recognition of the culture in media.
Please enjoy a sample of the videos available on Youtube listed below.
Please check out their YouTube channel at Maka'iwa Keiki.
Learn more about Maka'iwa Keiki on their website: makaiwa.org/makaiwakeiki
Purchase Makaʻiwa Keiki coloring book Here