Learn Hawaiian Language on Your Phone
Recently the Maui Arts and Cultural Center (the MACC) hosted a free screening of the animated movie "Moana" with Hawaiian language.  All of the songs and dialogue had been translated and dubbed to create a truly unique and beautiful immersion into Hawaiian language or 'Olelo in Hawaiian.
It was explained in the introduction before the movie that Disney was providing all school districts in Hawaii with the film to be used as an educational tool.  Although the movie does not represent Hawaiian culture specifically, it draws from many Polynesian cultures, it has many references we can relate to from our island culture.  This includes one of the main characters "Maui" that integrated the legend of Maui harnessing the sun.  We are in great appreciation for Disney translating this movie into Hawaiian and for making it available to the children of Hawaii.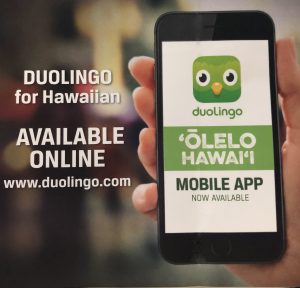 During the introduction before the movie, which was spoken in 'Olelo and English, the presenters encouraged the learning of Hawaiian language and introduced the phone app duoLingo.  This is a free application available on your phone that teaches daily lessons for new or advanced learners.  You are able to set the amount of time you want to spend; from 5 to 20 minutes per day.  This app speaks the language to you and has you match words to English.  Some fundamental understanding of the pronunciation of the Hawaiian alphabet would be helpful before using this app.
The presenters encouraged learning the language as a way to communicate more fully to our Hawaiian community.  This is a wonderful way to honor our host culture whether you are local to the islands or just visiting.  We have no affiliation with this app but we do promote all forms of honor and support for the Hawaiian people.
We hope you enjoy the information we share.  If you would like to volunteer for one of our islands Hawaiian non profits, check out our page Here.  To see Hawaiian businesses you can support, click Here.