Kiwikiu Reintroduction Plan- Restoring Maui's Native Birds
Maui Forest Recovery Project is working diligently to restore and support Maui's native birds.  We are excited for the reintroduction of this fading population into the wild.  Maui Forest Recovery Project shares some of the plans aspects with us.
Kiwikiu (Maui Parrotbill;Pseudonestorxanthophrys) are among the rarest and most endangered birds in Hawai'i. Because of this, US Fish & WildlifeService has recommended establishing a second population on the leeward slope of Haleakalā to increase total population size and protect the species from severe weather events or other catastrophic loss in their small current range.
Nakula Natural Area Reserve(NAR)on the leeward slope of Haleakalā wasselected as the site of the first releases of Kiwikiu to begin establishing a second population. Kiwikiu were once found in this area, but the forests were degraded from a history of introduced ungulate impact. However, large, intact forest sections remainaned the majority of this habitat is now either fenced or will be shortly. Following fencing and eradication of ungulates, the forest in this area has begun to recover through natural regeneration and conservation restoration efforts.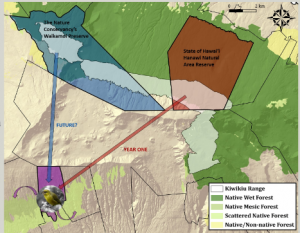 In 2018, the Maui Forest Bird Working Group completed the Kiwikiu Reintroduction Plan. The plan outlines the steps of establishing Kiwikiu on the leeward slope, including the procedures for the first year of releases in Nakula. Here is a short summary:
-Cohort for release will consist of 12 wild and 8 captive individuals.Captive birds consist of seven males and one female; therefore a release of more males than females is very likely. Wild individuals will be caught in Hanawi Natural Area Reserve.
-Soft Release Technique: All 20 birds will be held in paired aviaries at 10 sites within Nakula. Birds will be held for up to 3 weeks. Aviaries will be opened to release birds to site incrementally to help anchor birds to the area.
-Food supplementation will be provided in and around the aviaries as long as the birds need.
-Post-release monitoring will use radio transmitters and color-band resighting. This is the first step of a multi-year effort. Following the first year,the results will be evaluated to determine if, and in what ways, additional releases should be conducted. The short term goal is to create a disjunct population of Kiwikiu that survives multiple years. The ultimate goal is to establish a self-sustaining population of Kiwikiu in Kahikinui.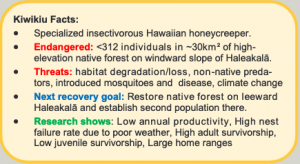 Click link here to read the entire plan: https://mauiforestbirds.org/wp-content/uploads/2019/02/201902_MAPA-Reintro-Plan-Version-2.0.pdf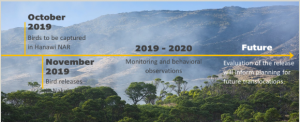 Support, volunteer or donate to Maui Forest Recovery Project: https://mauiforestbirds.org/support/
See other Opportunities to Volunteer Here.