How to Live A Fuller Life with Less Stuff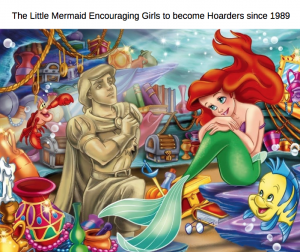 Sell, Donate, or Dispose of items that steal your joy. Only allow items to remain in your home if they beautify the space, serve a purpose or bring happiness. Everything else is excess. We do not need a junk drawer. If you want a place to put your junk, it is called the trash. Free yourself of old bread ties, old keys and decorations that have been enjoyed beyond prettiness. If your decorative items can not be made pretty again, because of a lack of time or desire – give them away.
Don't buy what they are selling – Keep your money; prevent the accumulation of junk by not buying it in the first place. If there is something you need to buy, choose carefully and purchase a quality item, one that will serve you for years to come. Otherwise consider buying second hand if it is something you will only use occasionally. Before taking an item home, be sure there is a place for it to be stored.
Rethink impulse purchases – just because it is in your cart does not mean it has to go home with you. If it does accidentally end up at home and you are experiencing buyers remorse, return the item to the store.
Free gifts – There is no obligation to accept a free gift. And for the love of all things minimalist, just say no to good deals on something that you don't need. This is where I get into trouble. Particularly at craft supply stores. Crafty people know what I mean! Do you really want to take up macrame or make a latch hook rug or are you just being tempted by the 90% off price tag. Be honest with yourself!
Other Peoples things – Why do we feel obligated to keep other people's things? Particularly items that don't serve us or clash with our decor? If the furniture is of quality it can be refinished and sold or sold as is. It is okay to give it away. Just liberate yourself from it. My sister inherited some very good quality, huge, old furniture from one of her deceased in-laws. It was beautiful but did not fit in my sister's home. My sister's home was half the size of the home the furniture was bought for. Her still living mother-in-law insisted that the furniture stay in the family and not be sold, but the mother-in-law was unwilling to take the furniture to her own home. What would you do? I would not have kept it.
Sentimental Items – How sentimental? If there were a fire or a flood and a quick decision had to be made which items would you grab? Probably the ones that could not be replaced?  Save only what is really meaningful for you.
Books – Did you read it? Are you going to read it again? Is the info available on the internet? I have a few meaningful books that I refer to occasionally. I have written in them or put little tabs on their pages. I have a couple of books that have been signed by my favorite artists, these I will keep forever. Looking at these books brings me joy and inspiration on my own creative endeavors. I allow one shelf in my home for my favorite books. I still read, now I just gift the book to someone I think would enjoy it.
Clothing – One in one out. In regards to clothing less is more. We wear the same things over and over again anyway. Let go of what does not serve you, someone else can use it. I find that blue is my color. I look good in blue. I look terrible in beige. Guess what color is in my closet. Another great way to keep fashion fresh and alive is to have a clothing exchange party with your friends.
The over equipped kitchen infliction –  We can be more efficient in the kitchen with fewer utensils, dishes, glasses etc. Unless you have a really big family or do a lot of entertaining the kitchen drawers should always open and close easily.
Life will be more fulfilling when we choose adventures over possessions – Trust me on this one. Many people would rather buy stuff so they have something to show for their money. If you were able to recall every item that you ever owned that you forgot about you might wish you would had gone on more trips to more exotic and far away locations. Wouldn't it be nice to have an experience that gives you memories and stories to last a lifetime?
And finally, I would like to share one of my favorite comedic acts of all time. George Carlin's view point makes journey to minimalism fun and a bit easier to laugh at ourselves. For those of you familiar with George Carlin, this skit never gets old. I found the clean version – enjoy.
I hope this blog post will support you on your mission to live a funner life more simply. Check back with ConsciousMaui.com for Maui events and Daily weather and surf Report. Also visit us on facebook.
Aloha