Ho'okipa Beach Park- North Shore Maui
Maui has many beautiful beaches; each with their unique beauty and characteristics.  Ho'okipa Beach Park on the north shore has many beautiful qualities.  The name Hoʻokipa means "hospitality" and has many claims to fame.  In 1937 Alice Johnson, known as "the Songbird of Maui", wrote the Hawaiian standard "Ho'okipa Paka" after spending her lunch time there and napping under a tree.  Kuana Torres performs the song in the video below.
Ho'okipa is internationally known for its surfing, windsurfing and kite surfing and host many world class competitions.  Depending on the conditions you may see on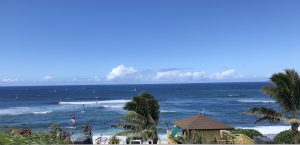 e or all of these sports demonstrated at expert levels. This is not a good beach for swimming but experienced snorkelers might go out on calmer days.  Always check with the lifeguards if you are unfamiliar with any beach conditions.
The upper parking area is a great overlook to watch the ongoing water sports and amazing sunsets.  The lower parking area with pavilions are usually filled with surfers and locals celebrating events or just every day pau hana.  Fisherman can be found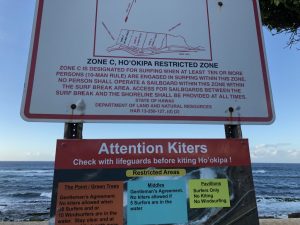 on the ocean front catching their dinner.  Surfers line up in the water on most days waiting for the perfect wave.  At the far end of the beach windsurfers and kite surfers take advantage of the north shore wind.
Many people share this beach for water sports with "gentleman's agreements" on where activities can be done.  Again, please check with lifeguards at either end of the beach for clarification on conditions or protocol.  This is a place where respect and aloha are shared but usually in that order.
Ho'okipa is also one of the best places to view honu (Hawaiian sea turtles) and an occasional monk seal basking on the beach.  These animals are protected here in Hawaii.  NOAA says,"Today, all green turtle populations are listed as either endangered or threatened under the Endangered Species Act. "
On the beach at the end of the cove there is a resting place for honu.  Locals have built a wall to protect these endangered animals.  There may be a few or dozens of turtles at any given time.  Please remember our honu are protected and life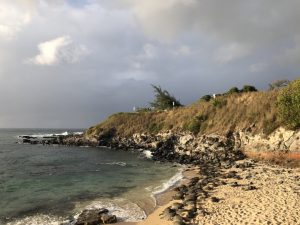 guards, locals and preservationist will encourage you to give the honu there space. A distance 15 feet away is usually recommended but be aware that anything that could be perceived as harassment of these beautiful turtles are subject to hefty fines.  See more about protecting our honu here.
Whether you are spending the day or passing through on your way back from Hana, Ho'okipa offers something for everyone to enjoy.
For more information about Maui beaches check out -http://hawaiibeachsafety.com/maui/hookipa-beach-park