Hawaii Grown Fruit of the Month – Mango
Welcome to Conscious Maui's Fruit of the Month. Today we are going to share some info about the delicious and nutritious Mango. Learn how to eat a Mango without making a complete mess. Unless, you are cool with mango juice on your elbows you may like this trick.  Last Month we talked story about the Jackfruit. If you missed it click here to learn more about Jackfruit.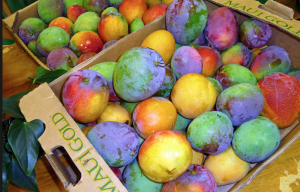 What is Mango:
With so many varieties of Mango it is hard to try them all. Some are stringy in texture, some are not stringy at all and many are somewhere in between. The same can be said for sweetness and juiciness.
Where to get Mango:
From the tree in your yard, a friend's tree, the farmer's market, fruit stand on the side of the road or a grocery store. Make sure to get a locally grown mango if dealing with a grocery store. There is no reason to ship fruit half way around the world when it can grow right here!
When to Harvest Mango:
Maui is fortunate to have a long mango season due to many micro-climates. Sometime around summer Mangos start to show up. First, on the hotter Lahaina side then as that season slows down the Mangos upcountry start to do their thing. Depending on the variety of the mango and its location, Mango can be enjoyed between June and December.
Mango trees can grow up to 60 feet tall.  Here is to grow a manageable Mango tree from seed. Once the young tree grows about hip high cut the terminal bud, in other words snip off the top to force the tree to start branching out where you can comfortably reach the fruit. With proper training/pruning a mango tree can be kept a manageable size, but this attention must start with the very young tree.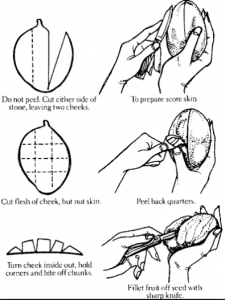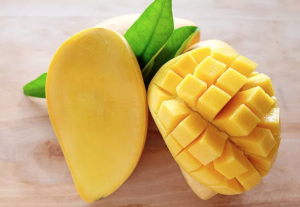 How to eat Mango:
Eat everything between the skin and the large seed. The seed is shaped like a well used bar of soap. There are a few ways this can be done. Some ways are easier than others depending on the species, your teeth or fingernails strength and with how much of a mess you are comfortable with. Some people will bite into the side of the mango and peel the skin off then eat the fruit off the seed. Once you learn where the seed is in a mango, a knife can be used to cut lengthwise down either side of the seed, then cut a grid or tic-tac-toe into the fruit without cutting into the skin, using the skin like a little bowl, then scoop the fruit out with a spoon. Or using a knife the skin can be peel and the fruit can be cut off the seed.
Mango is great eaten right off the tree, in smoothies or frozen into chunks.
If you don't like your first mango, try another species. There really is a lot of variety. Personally there are mangos I will eat and eat and eat and others that I will not touch. If you like a smooth sweet juicy mango, start with a Hayden variety Mango or similar.
Why mango is good for us:
Mangos are a great source of Vitamin C promoting healthy immune function, Vitamin A which is important for vision and bone health, potassium and fiber. The color of this fruit is a signal that it is rich in carotenes. Consumption of organic fruits rich in carotenes, like mangos, are known to protect our bodies from certain illnesses.
Check out local Grocery Markets Here.
Check out Farmers Markets Here.