Hawaii Grown Fruit of the Month – Guava- Kuawa & Waiawi
E Komo Mai! Welcome to Conscious Maui's Fruit of the Month Blog.  This month we will share a bit of info about the Guava, an invasive yet delicious fruit growing here, there and everywhere on Maui. It is delicious, free and surprisingly healthy, so eat up, or drink up cause it is great in smoothies too!
Last month we shares some of what we know about the Soursop. This one is really worth reading so if you missed last months featured fruit of the month, click here to learn more about Soursop, it could save a life!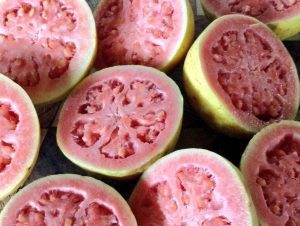 What is Guava:
Guava is an abundant tropical fruit on the Hawaiian Islands. Common Yellow Guava is known as Kuawa, and Strawberry Guava is known as Waiawi in Hawaiian. Guava is native to Mexico, Central America and the north part of South America. There are many varieties available but to keep it simple lets focus on Yellow Guava and Strawberry Guava the two most available kinds here.
Where to get Guava:
Guava, an invasive species, can be found growing in public places. I would love to say you can eat the guava you find growing in the wild but since it is consider invasive it may very likely have been sprayed with a harmful chemical.  So picking guava for consumption along the highway is not advised. Even though you may see or smell them when you are on the road, be advised of this.  Many of the chemicals, herbicides/pesticides etc. on the market are systemic, meaning the chemical is in the plant and can not be washed off.  So it is going to be safer to eat the guava growing in your own yard or in the yard of a friend that does not use such chemicals in the garden. You can often find guava for sale at your favorite grocery store or a roadside stand. The farmers market is very likely to have it for a very reasonable price. Again it is important to choose wisely what goes into our bodies. Remember what we learned in kindergarten; "You are what you eat!".  Guava grows itself abundantly. Let's always remember to practice abundant growth, be like the guava.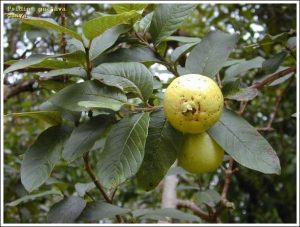 When to Harvest Guava:
Almost all year round guava can be found. Although guava is an invasive species, in a time and place where food is expensive, it is nice to have to have something so readily available to eat.
There are several varieties of guava growing in the Hawaiian islands and the growing seasons overlap. Also, thanks to the many varied micro climates of the Islands, the ripening times are staggered. Guava growing in one place can grow faster than one of the same species being grown on another part of the island.
How to eat Guava:
Cut the ripe guava in half and scoop the fruit with a spoon. Eat the fruit seeds and all, the seeds are small and quite hard, you can spit them out and plant them or swallow the seeds whole. It has been my experience that the seeds are not to be chewed. When guava are put into a smoothie keep this detail about the hard little seeds in mind. A good blender will break them up and soon the seeds will sink to the bottom.
Why Guava is healthy:
Guava is an amazing source of antioxidants, Vitamin C, potassium and fiber. Guava has no cholesterol and is low in digestible carbohydrates. Guava contains a combination of lycopene, vitamin C, polyphenols and  quercetin, a flavonoid.  The synergistic combination works to neutralize free radicals (if the fruit is organic and untainted by pesticides etc., mentioned above).  The higher the  free radicals exposure, the higher the oxidants, the less healthy or older looking a person may become.  Guava is an amazing immune system booster and great for promoting good eyesight and good digestion.
Check out our local Markets Here.
Check out roadside farm stands Here.
Check out Maui's Farmer's Markets Here.