Hawaii Grown Fruit of the Month – Mountain Apple, Ohi'a 'ai
Welcome to Conscious Maui's fruit of the month blog for July 2019 – This month we are featuring the Mountain Apple, also known as Ohi'a 'ai in Hawaiian. Last month we shined the spotlight on Lychee, the favorite of many! If you missed it, click here to learn more about the flowery fabulous lychee fruit!
Let's get back to the Mountain Apple, shall we?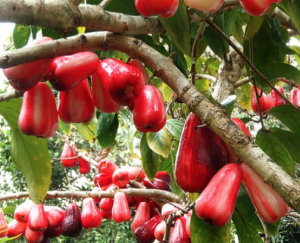 What is the Mountain Apple:
Mountain Apple aka Malay Apple in other parts of the pacific, the Hawaiian word for this abundant fruit is Ohi'a 'ai. Colors of this fruit range from red to pink and have a shape that is similar to a petite pear. They have a nice lightly sweet delicate flavor and when bitten into the give a bit of a crunch. The seeds are not to be eaten and should be planted, with a little care they will sprout within a short time.
Where to get Mountain Apples:
When in season this fruit should be easy to find. The farmers market may have Mountain Apples, otherwise you or someone you know will have one of these beautiful trees in the yard. You may come across mountain apples in one of our road side honor bins. Since they are one of the more fragile fruits with their thinner than paper skins it is unlikely that a grocery store would have them. They don't hold up to handling. If you like them, plant one in your garden right away. After all, planting a tree today offers hope for tomorrow!
When to Harvest Mountain Apple: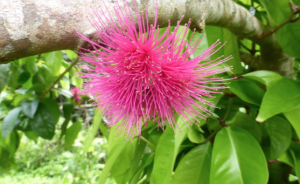 Mountain apple tree will bear fruit throughout the year. In late summer to early autumn their harvest season will pick up. Before the fruit you will see this pink pom pom flower. It is so stunning. Within a few days the pom poms will fall to the ground in pieces leaving a bright pink covering on the ground around the base of the tree. This is the time to watch the fruit start to grow. When a tree full of mountain apples ripens they all ripen at once. So, share share share. They can be dried or canned but fresh is the best. Once removed from the tree they will only last a couple of days before they start to get spotty. They are exceptionally fragile, and transport horribly, a couple of mountain apples touching each other in a bag is all it takes to damage their delicate skins.
How to eat Mountain Apples:
Rinse the mountain apple off, if you want, then bite into the fruit. it is okay to eat the skin. There is a pit in the center of the fruit that should be planted – and should not be eaten.
Why Mountain Apples are so amazing:
Because they are good for you, our bodies love a varied diet with lots of high frequency food. The mountain apple is rich in Fiber, Vitamin C and Potassium, enjoy the tasty goodness of this delicate fruit.
Find your local Farmers Market Here.