Hawaii Grown Fruit of the Month – Rambutan
Welcome to our second post in our "Hawaii Grown Fruit of the Month" series. If you missed reading our first "Fruit of the Month" Click here to learn more about Egg Fruit.
This month we take a look at "Rambutan"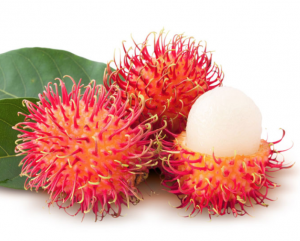 What is Rambutan:
Rambutan – A stunning and easily identified fruit, the rambutan, approximately the size of a golf ball, is a red fruit covered with flexible red, yellow, and/or green curly spikes.
Where to get Rambutan:
Farmer's markets, a generous neighbor, roadside fruit stands, some Maui grocery stores or best of all from your very own tree, if you acquire a grafted tree you can be harvesting your own fruit within 4 years!
When to Harvest Rambutan:
Sometime between Spring and Autumn, depending on the variety.
This is a substantial tree growing as tall as 35' high and wide.
A grafted tree will give fruit in about 4 years. The tree can be grown from seed and may or may not provide fruit and will take longer to provide fruit if ever.
How to eat Rambutan: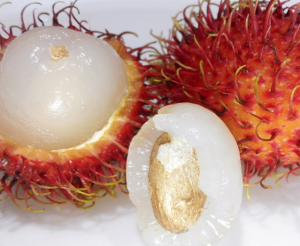 Carefully remove the skin by slicing thru it with a thumbnail or knife. The skin beyond the spikes is about 2mm thick, there is a large seed at the core. Eat the white fruit between the skin and the seed. Then, plant the seed as soon as possible, the seed is only viable for a short time, less than one week.
Why Rambutan is so healthy:
The High fiber and water content make this low calorie fruit an excellent way to decrease unwanted body fat. Rambutan is rich in Vitamin and Iron. It is also said to improve sperm quality and to have Anti-Cancer Benefits. If these benefits are of interest to you please consult your healthcare provider.