Hawaii Grown Fruit of the Month – Avocado, Pea (pay-ah)
E Komo Mai! Welcome to Conscious Maui's final Fruit of the Month Blog of 2019, Hold on to your Sarong we are going to talk story about the Avocado! You know this one!  Hopefully, we will share some new information on ways to eat Avos, when to pick them, and how to grow them (P.S. they grow themselves here). There is even an amazing recipe for healthy chocolate mousse made with Avocado!
Last month we share some good details about choosing Guava safely.  If you missed last months featured fruit of the month be sure to check out last month's post about Guava.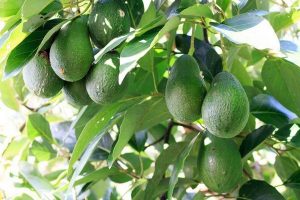 What is Avocado:
This month we shine the light on Avocado. Pea (pay-ah) in Hawaiian. There are many varieties of avocado, with a wide range in size, shape and color, yet somehow easily identified. An avo can be as small as a few ounces in size or it can weigh in at up to 3 lbs. They can be light green to blackish green and everything in between. Some avocados are shaped like a pear and some round like a ball. But consistently avos are nutritious.
Where to get Avocado:
Everywhere, avocado are readily available fresh or packaged. On Maui the grocery stores will almost always have avocados waiting for you, but they may have been unsustainably shipped here from other countries or the mainland over 2,000 miles away. Requesting local grown avocado, and other produce, helps to lessen the carbon footprint while supporting a local farmer and ensuring the freshest quality produce for you and your family.
Avocado is available frequently at the farmer's market or roadside fruit stand. Get some from a friend or be the friend that shares the avo.
When to Harvest Avocado:
Frequently, different varieties of avocado are harvested at different times of the year here on Maui. There will be sometimes when it seems to be raining avocado, especially if you have a tree in your yard. If you can eat it all, Great! If not…SHARE. If you do not have a tree in your yard all that needs to be done to grow an avocado tree here on Maui, especially on the rainy parts of the island, is to place an avo seed outside in a place you would like a tree. If you have avocado seeds in your compost pile they will grow into a tree there whether you want them to or not.  There is no need to poke toothpicks in the seed to be able to soak half on the seed in water.  Plants want to live and thrive, just put the pit somewhere you would like a tree. And then smile because you have done a good thing!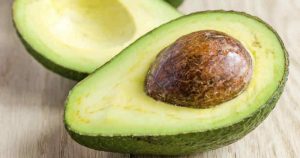 How to eat Avocado:
Cut in Half, remove large seed and plant it. Cut a tic tac toe into the yellow-green flesh of the fruit then scoop it out as cubes. You can also peel the skin away.  Avo is great in salads, mix it with salsa to make instant guacamole, or eat it plain.  The seeds hold so much live energy they blend easily into smoothies. There is a chocolate avo mousse recipe down below too.  Great plain, or add some lemon and salt. There really is no wrong way to enjoy avocado!
Why Avocado is so healthy:
Avocado is an Incredibly Nutritious low carbohydrate fruit, packed with good fats, and contains nearly 20 vitamins and minerals – Vitamin C, E, K and B-6, Riboflavin, Niacin, folate, pantothenic acid, magnesium and potassium. This cholesterol free fruit  is virtually the only  fruit containing the good fat, the heart-healthy, Monounsaturated Fat. The majority of the calories come from GOOD FAT, so eat up.  Avocados provide Lutein, Beta carotene and omega-3 fatty acids too. Any they come to you in a perfect compostable wrapper, that can be peeled off or used as a little bowl to use to eat your avo!
And did you know,  Avocado can even be turned into Chocolate pudding? Now you do! Here's a recipe:
Conscious Maui Avocado Chocolate Mousse
INGREDIENTS:
Avocado 1-3 depending on the size (1 1/2 cup avocado)
Cacao or unsweetened cocoa powder 1/4 cup
Agave Syrup 1/2 cup
Organic Maple Syrup 2 TBSP
Vanilla Extract 1 tsp
Himalayan salt 1 pinch
Blend all ingredients in Food processor
if thinning is needed blend in a small amount of non dairy milk.
Share out into 4 serving bowls
Garnish with mint, strawberries or Chocolate Chips
Refrigerate for several hours to allow the avo to take on the chocolate taste.