Going with the Flow on Maui!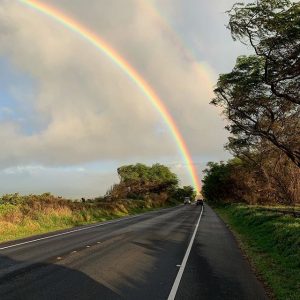 As tourism on Maui becomes more and more popular it is important that visitors have an idea of what we are about before arriving. Those of us that live here are here because we love our island. We love that our lifestyle is very different from anywhere else. All of our individual experiences and challenges are what give the people of Maui an abundance of character, color and love.
We are all one, yet unique in our own ways. The people of Maui are a colorful, creative bunch, unlike anywhere else I have been. It brings me great pleasure to celebrate our diverse and rich cultures and gifts.  Sadly, many people will never get to experience Aloha firsthand, whether they come to Hawaii or not. One must be open to receive!
By living Aloha, our visitors can witness what it is to live with kindness and love.  Some of our visitors will "get it" and bring the Aloha back home. What a simple way to promote kindness island wide and globally!
A quick note to visitors: Many people living on Maui have broken out of the mold of ordinary life, we are blazing our own free spirited trails and loving it!  We have mostly freed ourselves from the chains of trying to "fit in" and be the same as everyone else.
Here is an analogy to consider:  Look through a stack of blank artist canvases, there is not much to consider or discuss, but they all match, and are predictable and yes, boring to look at. But once those same blank canvases are splashed with color and things start to get messy, they become alive. As a person living on Maui, I relate to being more like the colorfully painted canvas that is occasionally unpredictable and messy!
People come to the islands for new experiences. Surrender to those experiences. It will quickly become obvious that things here are done differently than you do back home. Allow that to be okay and experience how it feels to go with our flow.
Here are 3 simple ideas that have helped me connect heart to heart with others and adjust to Maui life flow:
BE PRESENT – It feels so great to be present in the moment. I have decided to put down the phone and look into the eyes of the person with me. It's magical to look into the eyes of others, our eyes are the windows to our souls. Ever notice how much the human eye looks like the galaxy? There is something to this. Look into the eyes of the people around you. Put the phones away as possible! Of course there are exceptions, you may be expecting a call from the keiki or a loved one and that is understandable.  It feels good to be present when someone is sharing their time with me in person.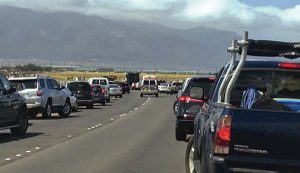 SLOW DOWN, THIS AIN'T THE MAINLAND – In 2014 I found myself cashiering at a store in a busy area.  The entire store was so rushed and so crazy it was nearly impossible to connect with anyone ever. I came to Maui to build relationships and to live a life of love. This was not a peaceful place for me to relate to others, so I chose to do what felt good and I left.  I met some really beautiful souls in my short time at that store, if only I took more time to really connect.
MULTI-TASKING – This needs to occur way less if we want to be happy as a species.  Multi-tasking splits our energy and attention when relating to other people.  When doing business at a retail location, I appreciate the undivided attention of the person working with me. Being fully present for each other helps us to connect.
For me I have to be mindful of where I am; I am on Maui, I am on Maui, I am on Maui.  This has become my Mantra, as I notice things moving a little faster on the island.  It is important to stop, breathe and remind myself that Maui is not the mainland.  I must honor the island and the culture by living my best life and not allow myself to become distracted by the anxiety or fear within myself or within others.
Please help us share ConsciousMaui.com with the your friends and family if you enjoy our site. Hopefully you are enjoying our blog, events calendar, weather and surf reports. Much love is being put into ConsciousMaui.com everyday. Please check us out when you are looking for sustainable businesses on the island. Let's promote what we love! I look forward to meeting you all. Aloha!