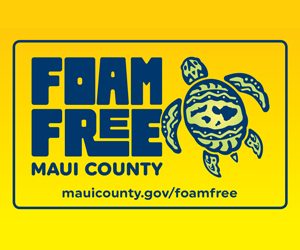 Maui County has legislated a ban on polystyrene products effective Dec. 31, 2018. In an effort to be more sustainable and healthier for people, animals and our island home; the use, sale and provision of polystyrene products are prohibited. This includes food-service containers so our restaurants will now offer more eco-friendly options.
Polystyrene has been estimated as up to 80% of our marine debris. It is particularly troubling because polystyrene contains toxins that are potentially hazardous to humans and harmful or fatal to animals. It is also known when the polystyrene breaks down it emits methane and ethylene; major contributors to global warming.
We are excited that our Maui legislators are looking out for the future of our island home and preparing for a more sustainable future for generations to come.
The tag line for this campaign is, "We Can Live Without It." It is a very helpful perspective that leads us to ask the question, "What else can we live without to support sustainability?" We look forward to finding and providing options for this question.  Check out our Maui businesses that have found ways to be Eco-friendly and Sustainable Here.
For more information on the polystyrene ban go to Maui County website: https://www.mauicounty.gov/2282/Foam-Free-Maui-County