Feeling Amazing Maui Style
A big part of living in tune with the planet is taking care of your own body, this body is your vehicle for this entire life. What if you were to be given a free car, BUT that car would be the one and only car you could ever own. Would you take care of it, would you give it the best fuel available. Would you take extra care to avoid the pukas in the road? You would make sure it gets frequent tune-ups. Our Body is our one and only vehicle. Let's take care of it today!
1. Drink Water – notice I didn't say drink soda or sports drinks, drink pure clean water, the kind without fluoride. Fluoride is corrosive, do you want even a little bit of a corrosive material added to your water?
2. Eat fresh organic fruit and vegetables when they are in season.  You have to make your own decision on this one. Many food crops are sprayed with herbicides and pesticides while they are growing. Many crops are sprayed with weed killer a few days prior to harvest, killing the plants makes them easier to harvest. I don't know about you but eating poison is not part of my wellness plan.
3. Get moving in nature. Build a sand castle, start a garden, pick up trash at the beach or in the park where the keiki play. Do something that makes you happy. Swim, surf, get a surf lesson with Hang Loose Surf Club, skate, yoga and hula your way into happiness with hula lessons at Halau Hula Kauluokala . Borrow a dog from the humane society and make a better day for yourself and the pup. Click here to learn more about Beach Buddies at the humane society.
4. Create music, art, food, stories, architecture, or jewelry. Humans are so creative. We all see these amazing projects being completed  where people create amazing works of art using everyday objects in new and unique ways. And I thought to myself, what an amazing way to be, imagine if we all made time to create.  Too many of us find creative ways to punk each other and go out of our ways to make things difficult. What if all of that energy was focused towards helping and encouraging others. The human race has such potential, we are just not living up to it YET.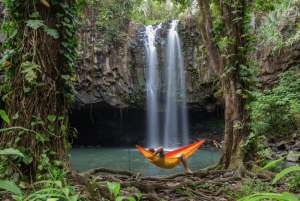 5. Sleep! Do you know someone who is exhausted all day everyday and then night time comes and they can not sleep?  What is that about?  Sleep is easier when we feel safe and are free from worries. The more complicated we make our lives the more of a challenge it is to sleep.  A harmonious life is essential for good sleep. Do you have kids? Keep them busy, dancing, singing, playing and creating and learning hands on. Activities for children will keep them happy, healthy, out of trouble and at the end of the day they will sleep. Sitting still and being quiet goes against our design especially as children!  Eat well, drink plenty of clean water, move around, treat others the way you want to be treated, stay off the drugs, caffeine, refined sugar, alcohol, and nicotine. In listening to our bodies, really listening, the answer to achieving good sleep will be revealed.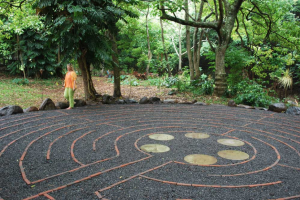 6. Meditate – Be still, just be either alone or as part of a group. Some people love a guided meditation. There are some amazing places on Maui to settle in to an amazing meditation. The Sacred Garden of Maliko in Makawao has two amazing labyrinths, one outside and one inside perfect for rainy times.  Around the time of the full moon the Sacred Garden offers  a guided labyrinth tour. Check their schedule to see when the full moon Labyrinth walk gathering will be held.
7. Community – Be a part of something, whether it's volunteering some of your time, taking lessons as a group, or socializing regularly with your neighbors. We all need to feel a connection we just want to feel like we fit in somewhere.  Do something to be part of a community. Be part of a community dedicated to encouraging and supporting others.  Can't find one? Look Here or start one! We can always have  more farmers, a farming community would be a great place to take your kids with you!
In order to be our best for ourselves and our planet it is absolutely necessary to be very intentional about taking care of these bodies. You know what they say… "You are what you eat." "Garbage IN – Garbage OUT." If we feel good we will do good.  If we are strong and healthy we will be able to think more clearly, we won't fall victim to lies and scams. We will be more confident to blaze our own trails, pursue our dreams, and to set goals and achieve them. We will have the energy to grow our own food. We will spend more time in nature. We will be inspired to create art and to play. Isn't that what you are here for? On my journey I have noticed the people that are achieving greatness, for themselves and for others, are investing in their nutrition and self care.  If we feel sick in our bodies but have fancy clothes, cars, and gadgets what we have is nothing.  If health is made a first priority everything else will sort itself out in a short time.
Check out Maui's options for Alternative Health and Wellness Here.
Check out options for activities Here.