03may6:00 pm9:00 pmWailuku First Friday Town Party-"May Day is Lei Day in Wailuku"FREE COMMUNITY EVENTGecko Guide:Culturally Significant,Non-Profit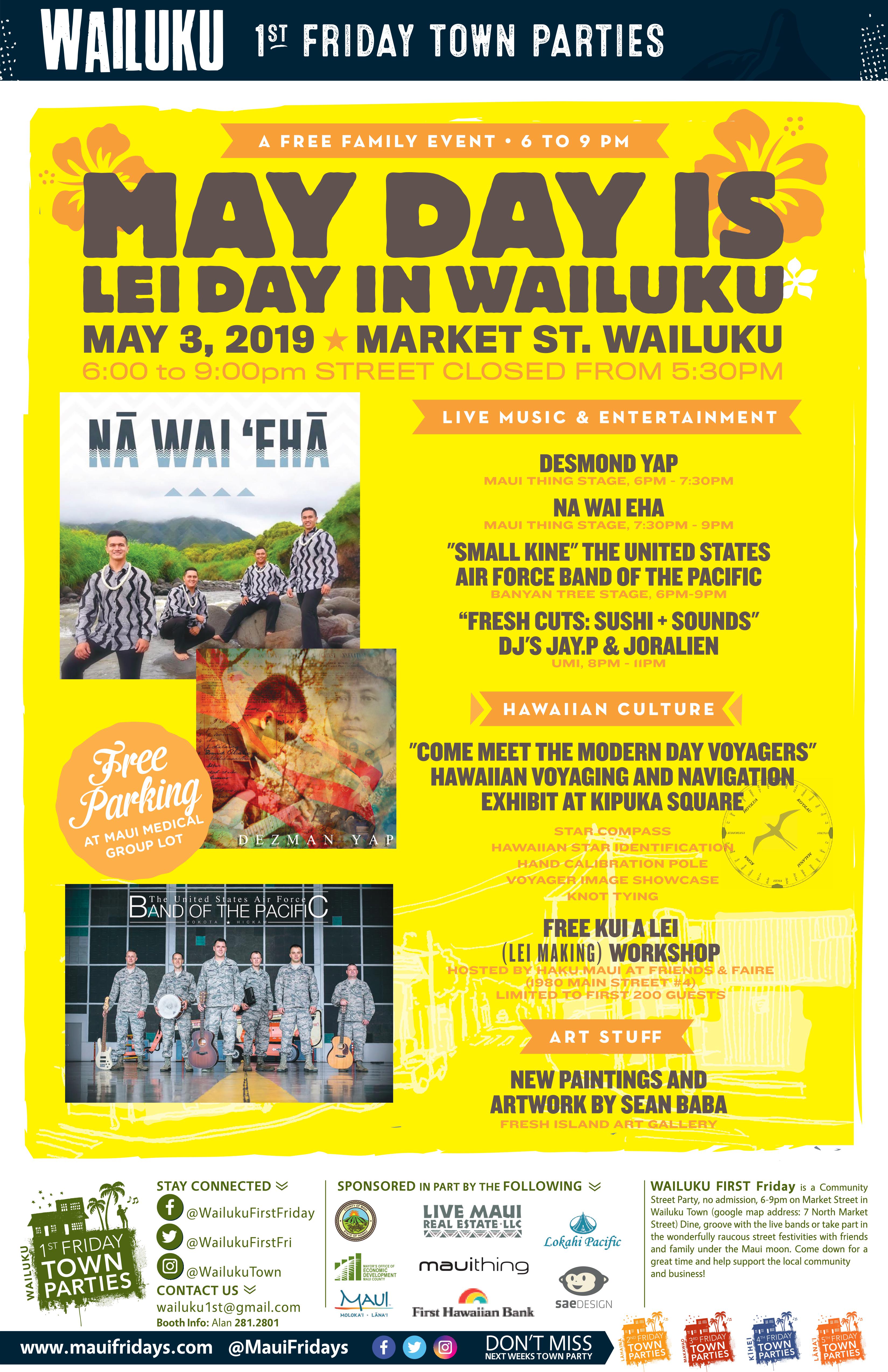 Event Details

Maui Thing Stage 
6:00 – 7:30 PM  Desmond Yap

7:30 – 9:00 PM Na Wai Eha

Banyan Tree Stage
6:00 – 9:00 PM "Small Kine" The United States Air Force Band of the Pacific

Other
8:00 – 11:00 PM "Fresh Cuts: Sushi and Sounds" with DJs Jay.P & Joralien at Umi

Hawaiian Culture (Sponsored by Maui Visitors Bureau) 

Kipuka Square

"Come Meet the Modern Day Voyagers." Hawaiian Voyaging and Navigation exhibit with a star compass, Hawaiian star identification, hand calibration pole, voyager image showcase and knot tying.

FREE Kui A Lei Workshop (lei making) hosted by Haku Maui at Friends & Faire (1980 Main Street #4). Limited to first 200 guests only.

About Wailuku First Friday

Wailuku First Friday is a free community street party, held from 6:00 – 9:00 PM, with Market Street closed to vehicle traffic from 5:30 PM. Vendors, merchants and entertainers are reminded that Market Street closes at 5:30 PM. For the safety of all participants, everyone's kokua is appreciated. Signage will remind the public that no cars will be allowed on Market Street during the event. Cars left parked on the street during the event will be ticketed. Maui Medical Group offers free parking during Wailuku First Friday at the facility's lot, located near the Main/High Street intersection. The Vineyard Street parking exit will close at 9:00 PM; patrons can exit the lot onto Main Street after 9:00 PM.

The Wailuku First Friday event showcases dozens of artisans, handmade crafters and food vendors. For vendor information and reservations, contact vendor coordinator Alan Takitani at 808.281.2801. A copy of vendor's general excise tax license, health permit (for food vendors) and additional insured will be required.

Wailuku First Friday is a Community Street Party and is generously sponsored by the County of Maui, Maui Visitors Bureau, Sae Design, Maui Thing, KONI 104.7 FM, KAOI, KPOA, Pacific Media Group, First Hawaiian Bank, and Lokahi Pacific. Check out Maui Friday Town Parties at www.MauiFridays.com for information on the County of Maui's Office of Economic Development program, and follow us @mauifridays on Instagram and Facebook.
Time

(Friday) 6:00 pm - 9:00 pm
Location

Wailuku Town Party

7 North Market St.