02nov6:00 pm9:00 pmWailuku 1st Friday- Thankful For Wailuku!Free community event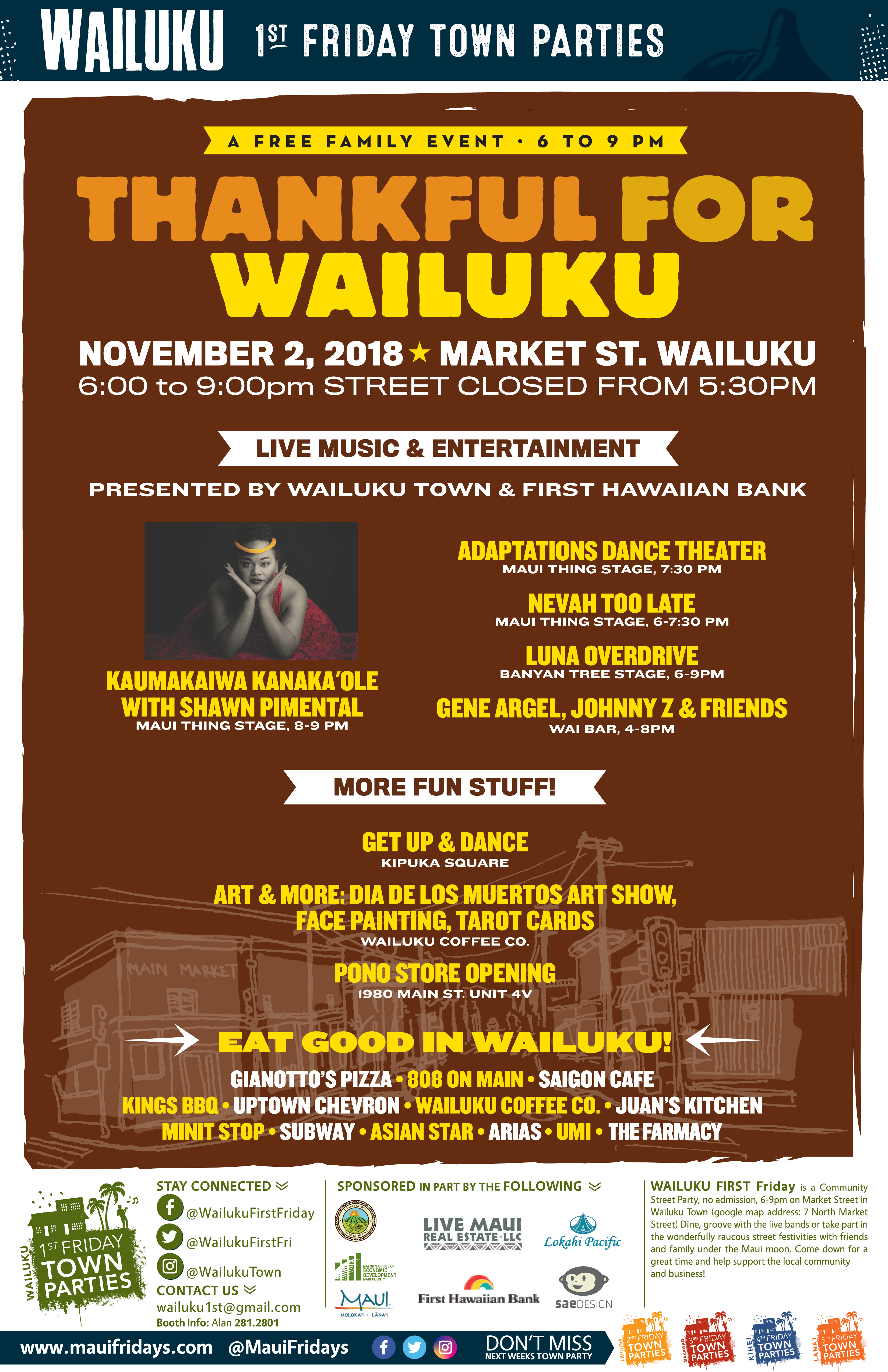 Event Details

Maui Thing Stage

Wailuku Town & First Hawaiian present

6:30 – 7:00 PM  Nevah Too Late

7:30 – 8:00 PM  Adaptations Dance Theater performance

8:00 – 9:00 PM  Kaumakaiwa Kanaka'ole with Shawn Pimental

Banyan Tree Stage

6:00 – 9:00 PM  Luna Overdrive

Wai Bar

4:00 – 8:00 PM  Gene Argel, Johnny Z & Friends

 

Other WFF highlights on Market Street include:

Kipuka Square

Get Up & Dance

Wailuku Coffee Company

Art & More:

Dia de Los Muertos Art Show

Face Painting

Tarot Cards

 

All PONO Store

Grand Opening

Seasonal popup store open through Christmas Eve

1980 Main Street, Unit 4V

And of course, great food booths and trucks, crafts and other treats!

Wailuku First Friday is a free community street party, held from 6:00 – 9:00 PM, with Market Street closed to vehicle traffic from 5:30 PM. Vendors, merchants and entertainers are reminded that Market Street closes at 5:30 PM. For the safety of all participants, everyone's kokua is appreciated. Signage will remind the public that no cars will be allowed on Market Street during the event. Cars left parked on the street during the event will be ticketed. Maui Medical Group offers free parking during Wailuku First Friday at the facility's lot, located near the Main/High Street intersection. The Vineyard Street parking exit will close at 9:00 PM; patrons can exit the lot onto Main Street after 9:00 PM.

The Wailuku First Friday event showcases dozens of artisans, handmade crafters and food vendors. For vendor information and reservations, contact vendor coordinator Alan Takitani at 808.281.2801. A copy of vendor's general excise tax license, health permit (for food vendors) and additional insured will be required.

Wailuku First Friday is a Community Street Party and is generously sponsored by the Hawaii Tourism Authority, the County of Maui, Maui Visitors Bureau, Sae Design, Maui Thing, Maui Redevelopment Agency, KONI 104.7 FM, KAOI, KPOA, Pacific Media Group, First Hawaiian Bank, Kama'aina Properties, Inc., Wailuku Community Association, Maui Time, IBEW Local 1186, Young Brothers, Hawaii Carpenters Union-Maui, Meadow Gold, HMSA Connec, LLC. and Lokahi Pacific. Check out Maui Friday Town Parties at www.MauiFridays.com for information on the County of Maui's Office of Economic Development program, and follow us @mauifridays on Instagram and Facebook.
Time

(Friday) 6:00 pm - 9:00 pm
Location

Wailuku Town Party

7 North Market St.