26oct5:30 pmWai.Kai Benefit Nightmaui ocean center benefit nightGecko Guide:Culturally Significant,Eco-Friendly & Sustainable,Non-Profit,Preservation & Conservation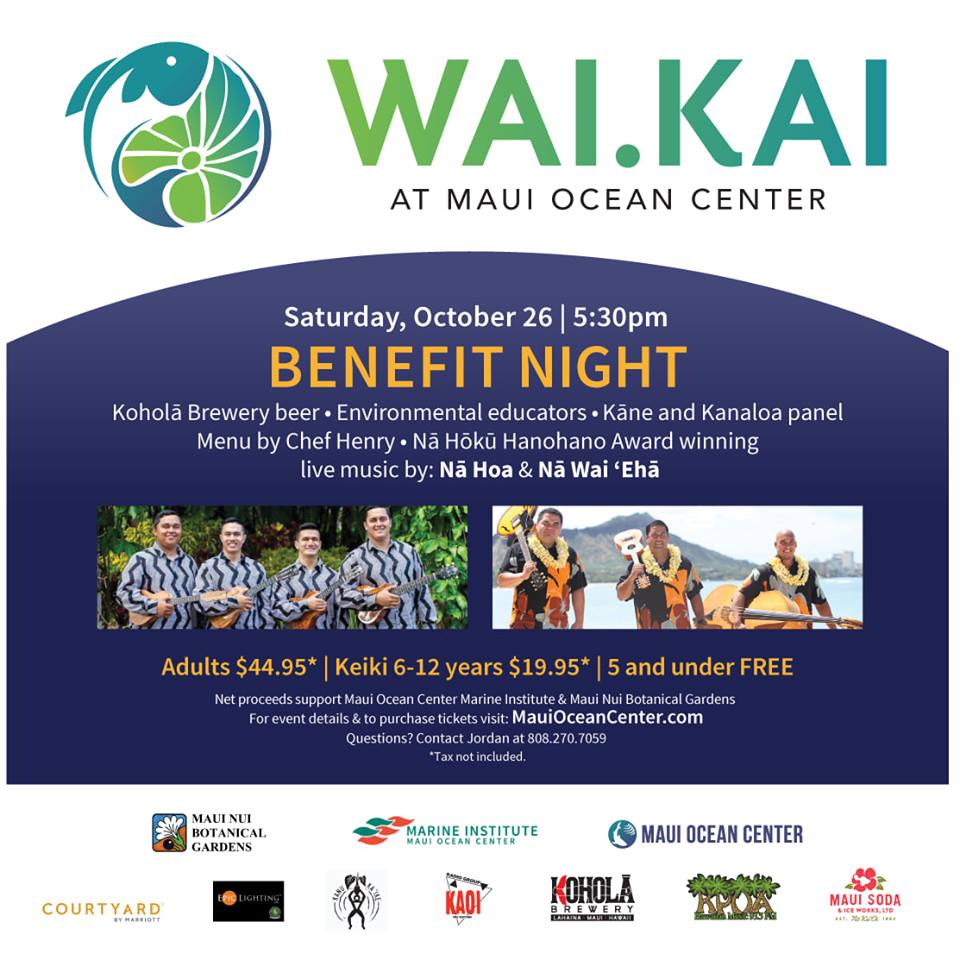 Event Details

Wai.Kai Week will conclude with a special Wai.Kai Benefit evening event on Saturday, October 26th from 5:30pm-9:45pm with net proceeds benefiting two local non-profits, the Maui Ocean Center Marine Institute and Maui Nui Botanical Gardens. Enjoy an evening at the Aquarium with access to the exhibits and Sphere, environmental educators, food, drinks, and live performances by Nā Hōkū Hanohano Award winners Nā Hoa and Nā Wai 'Ehā. Special guests Hōkūlani Holt, Billy Kinney, and Roxane Keliʻikipikāneokolohaka will host a panel discussion on the realms of Kāne and Kanaloa.

Wai.Kai Benefit tickets include Aquarium admission, one entrée and dessert, and four, and 8oz pours of Koholā Brewery draft beer. Tickets are $44.95 for adults and $19.95 for children ages 6-12 (non-alcoholic beverages available, and free for children ages 5 and under (food not included). Ticket prices are not tax inclusive. Additional food and drink options will be available for purchase at the Reef Café.

Please visit https://mauioceancenter.com/product/wai-kai-benefit/ for more information!

ENTER TO WIN TWO TICKETS to Wai.Kai Benefit Night, an inaugural experience to remember!

Your ticket includes:
• Access to the Aquarium & 3D Sphere
• Live hula and music by award-winning bands
• A cultural panel discussion by special guest speakers
• Four 8oz pours of Koholā Brewery craft beer
• One entree item crafted by Seascape Restaurant
• Children's activities, arts & crafts, presentations, and more!

To enter the drawing:
• Share this Wai.Kai poster
• Tag Maui Ocean Center (@MauiOceanCenter) along with three friends
• Use the hashtag #WaiKaiMOC

Deadline to enter is Thursday, October 24th at 11:59 pm HST.
Location

Maui Ocean Center, The Aquarium of Hawaii

192 Maalaea Rd