18apr7:00 pm8:30 amThird Annual Maui Medical Cannabis Symposiumfeaturing Andrew Weil, MD & author Michael BackesGecko Guide:Alternative Health & Wellness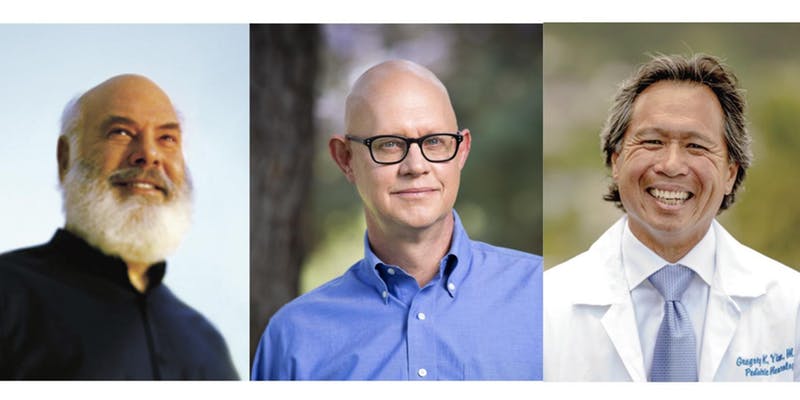 Event Details

Join Andrew Weil, MD, Michael Backes and host Greg Yim, MD for an update on the latest medical cannabis research findings. All three experts serve on Maui Grown Therapies' Science & Medical Advisory Board.

Dr. Andrew Weil is MGT's Chief Science Officer. He is Director of the Center for Integrative Medicine of the College of Medicine, University of Arizona and a Clinical Professor of Medicine and Professor of Public Health. A nationally respected authority on integrative therapies, he conducted the first published human trials on cannabis during the 1960s. He is a prolific author, television personality and sought-after speaker.

Michael Backes is MGT's Curriculum & Training Director. He is the author of Cannabis Pharmacy, the first evidence-based guide to cannabis therapeutics for varied medical conditions. He is a highly regarded researcher and member of the International Association for Cannabinoid Medicines and a contributor to Project CBD.

Dr. Greg Yim is MGT's Chief Medical Officer. He specializes in pediatric neurology in Kaneohe and Honolulu and is an Assistant Clinical Professor at the UH School of Medicine. He is a respected authority on using cannabinoids to treat pediatric neurological conditions. He is regularly featured in Honolulu Magazine's Top Doctors of Hawaiʻi, an annual honor determined by nominations made by fellow physicians.

brought to you by Maui Grown Therapies

COMPLIMENTARY ADMISSION; RESERVATIONS REQUIRED FOR ENTRY

 7-8:30 pm, McCoy Studio Theater at Maui Arts & Cultural Center

Seating is limited, please reserve early.
Time

(Thursday) 7:00 pm - 8:30 am
Location

Maui Arts and Cultural Center

1 Cameron Way