08may10:50 am10:50 amStem Cell and Regenerative Medicine Seminarfree seminarGecko Guide:Alternative Health & Wellness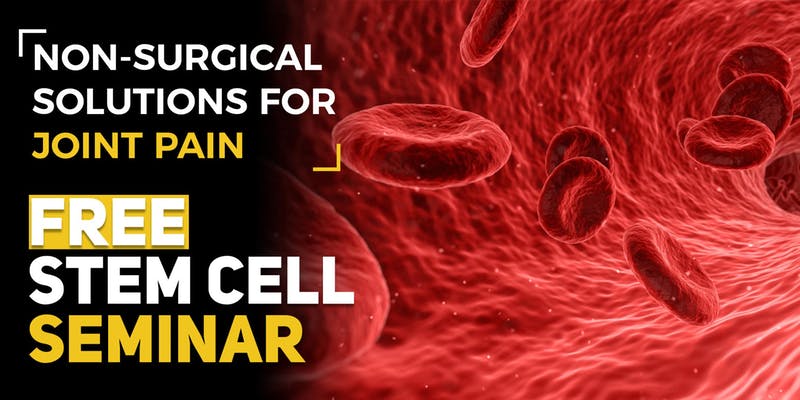 Event Details

Wed., 8 May 2019

1:00 pm – 2:00 pm

Kahului, Hawaii and Surrounding Areas …

Non-surgical pain relief solution for those with:
Arthritis
Knee Pain
Back Pain
Shoulder Pain
Hip Pain
Other Joint Pain
Peripheral Neuropathy & Nerve Pain
REGISTER TODAY AND LEARN THE NEWEST AND LATEST NON-SURGICAL REGENERATIVE MEDICINE AND STEM CELL TREATMENTS FOR JOINT PAIN AND CHRONIC CONDITIONS!
… NOW AVAILABLE IN Kahului, Hawaii, and surrounding areas – Kapalua, Maui, Lahaina, Wailea-Makena, Paia, Kihei …
** Must RSVP! It's Free! Must bring tickets to the event.
** Adults Only and First Time Guest. May bring up to 1 Guest.
Who is this FREE Stem Cell Seminar for:
If you're suffering from Chronic Knee Pain, Back Pain, Hip and Shoulder Pain, Ankle Pain or Other Joint Pain
If you've been told you need an expensive and invasive surgery
If you've been relying on harmful pain medications to get thru day after day
If you're desperately looking to finally get back to doing the things you love, PAIN-FREE!
Invasive Surgery or Medications are NOT your ONLY Options … Let us help you Get back to Living WITHOUT PAIN
RSVP and Attend our FREE EVENT to learn:
How this Most Advanced Joint Pain Solution Protocol is helping chronic joint pain sufferers AVOID invasive surgery and harmful medications
How this NEW Cutting-Edge Non-Surgical Chronic Joint Pain Pain Relief treatment is totally safe, fast acting and long lasting
How this NEW non-surgical pain relief solution MAY ONCE AND FOR ALL End Your Pain, so you can get back on your feet!
More Importantly…
Learn How YOU could Get back to doing the things you love … such as playing tennis, golf, walking in the park, spending time with those you love the most … without PAIN, once and for all!
So if you're considering whether or not it's a good option for you, then Register TODAY for this completely FREE EDUCATIONAL & INTERACTIVE HEALTH event. Find Out If You are a Candidate.
Click the button to Get Your FREE Tickets or Call our Reservation Hotline (808) 400-8911.
Time

(Wednesday) 10:50 am - 10:50 am