15feb7:00 pm10:00 pmSaturday Dance Celebration: Devi & FinnMAUI CONSCIOUS DANCE COLLECTIVEGecko Guide:Alternative Health & Wellness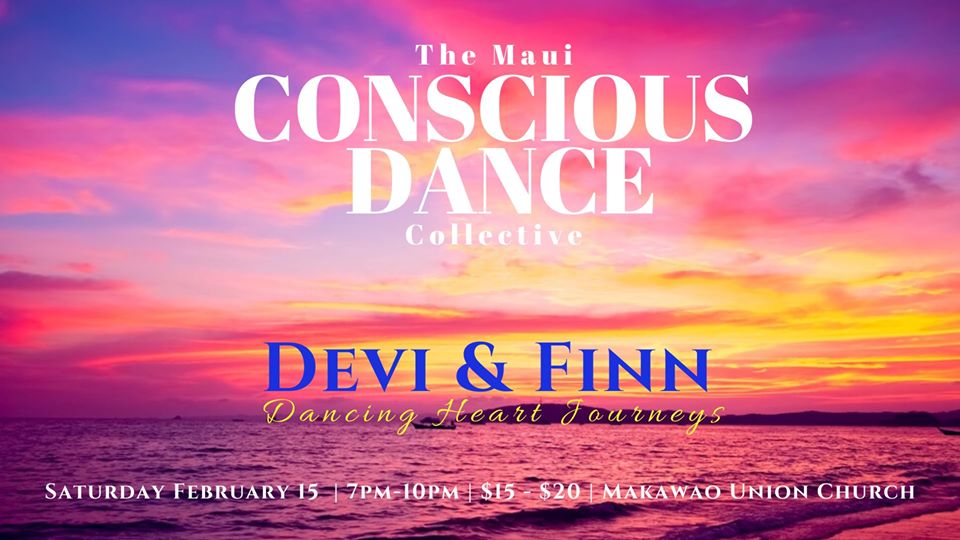 Event Details

COME ON A SATURDAY DANCING HEART JOURNEY!

JOIN MCDC on Saturday February 15 for a fabulous Dance Celebration with Devi and Finn at the beautiful historic Makawao Union Church Community Hall from 7-10pm. We will have live sound for our closing circle – more details will follow soon.

TRAINED on many conscious dance floors, Devi & Finn have been sharing their Dancing Heart Journeys since 2014. Their eclectic playlists are fueled by a passion of sharing the magic of connection and joy. "When we move beyond our notions of separation, we can dance heart to heart, celebrating our true nature of love."

PLEASE bring plenty of water and wear clothes that allow you to move freely. We dance barefoot or wearing soft-soled shoes. We recommend for you to treat yourself to the entire dance journey!

Donations are sliding scale $15 – $20 – work trades and scholarships are available upon request at the entrance.

MCDC'S 7 CONSCIOUS DANCE AGREEMENTS:

1. SAFETY: We dance in a way that is physically safe for all. Please keep feet below the waist when lifting other dancers. We only allow children on the dance floor when they are held in arms.

2. CONSENT: We encourage you to savor your solo dances, especially in the beginning of the dance. We also invite you to dance with others and ask that you do so with explicit consent. Please use eye contact and other body language (hands, feet) to confirm that the other dancer is up for connecting. Many usually are!

3. RESPECT: Illegal substances, smoking and alcohol are not allowed on the Makawao Union Church property. Dogs are no longer allowed on the premises either unless they are service dogs.

4. SILENCE: Dancing is our chosen language on the dance floor and we thank you for your silence when possible. We also apply this intention to our facilitators, who are asked to use words sparingly.

5. JOY: Please expect moments of spontaneous singing, circles, clapping and other expressions of joy to happen often at our dances.

6. ANNOUNCEMENTS after dance are only for those of non-profit and communal concern. Please let us know in advance if you would like to make such an announcement.

7. SUPPORT: If you experience any difficulties on the dance floor, please find an MCDC team member and we will do our best to support you.

ABOUT THE MAUI CONSCIOUS DANCE COLLECTIVE: Founded by volunteers in 2014, MCDC is a 501(c)(3) nonprofit organization dedicated to nurturing the conscious dance community on Maui. We host facilitators from a wide variety of conscious dance forms.
Time

(Saturday) 7:00 pm - 10:00 pm