27dec6:00 pm9:00 pmNew Year at Kihei's 4th Friday Town Partyfree community eventGecko Guide:Non-Profit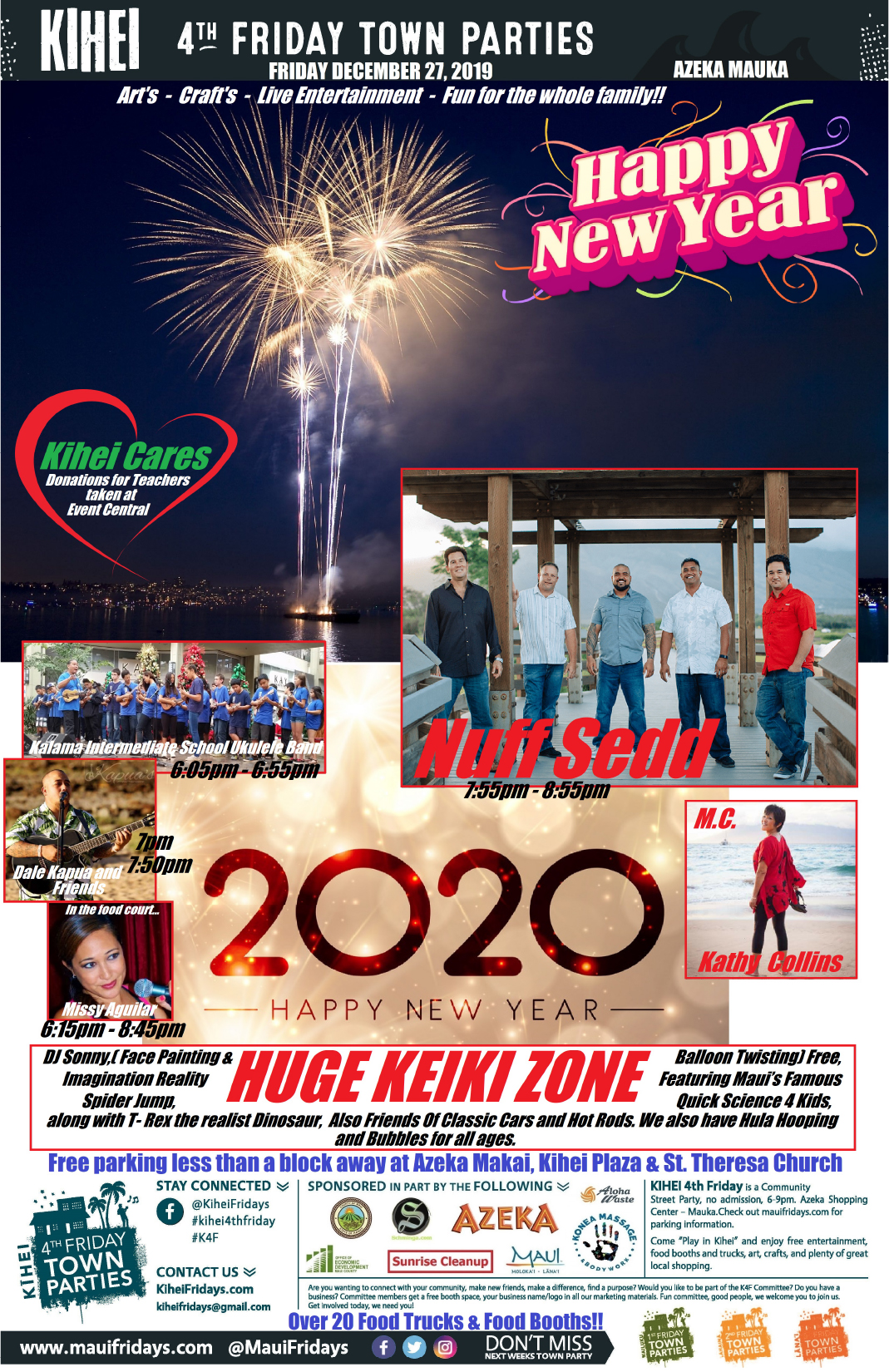 Event Details
Friday,
December 27

:  6pm – 9pm
Come Celebrate the New Year at Kihei's 4th Friday Town Party
Free Evening Entertainment at K4F Main Stage 6-9 P.M:

6:00-6:05 p.m. Intro – MC Kathy Collins
6:05-6:55 p.m. Kalama Intermediate School Ukulele Band
6:55-7:00 p.m. Announcements – MC Kathy Collins
7:00-7:50 p.m. Dale Kapua & Friends
7:55-8:55 p.m. Nuff Sedd
8:55-9:00 p.m. Closing Announcement –MC Kathy Collins
Food Court Entertainment:
6:15-8:45pm   Missy Aguilar
FREE Parking less than one block away at Azeka Makai, Kihei Plaza and St. Theresa Church. Longs parking lot charges  $10 for parking and is NOT affiliated with Kihei 4th Friday.
Activities for Keiki and Teens: DJ Sonny (Face Painting & Balloon Twisting) Free Imagination Reality, Maui's Famous Spider Jump, Quick Science 4 Kids, along with T- Rex the Realist Dinosaur. Also featuring Friends Of Classic Cars and Hot Rods, Hula Hooping and Bubbles for all ages!
K4F Food Court: Come enjoy a large food court area with many local tasty treats!
Food Booths and Food Trucks include: Jini's Curry, M Bakery, DeRay's Poi Mochi, Maui Cane Juice, Crepes D'Amor, Three's Catering, Just Put In, Only Ono BBQ, Maui Samosas, Tacos Maui 8th Wonder, Kettle Corn King, 808 Delights, Taste Of Aloha. Corn Project, Pastele House, Z-Man's Kitchen, Maika'ilani Malasadas, Horhito's Taco's, Bobaloha, Smoke n Spice and Wai Lemi!
K4F Retail: 808 Clothing, A&E Therapeutic/Aloha LMTZ, Flip N Ha-y-n Massage aka Aloha Country,  Aloha Beach Wraps / Giza Ventorini, Alpha Maui, Bodhi Waves, Aloha wear, Paradise Now, Boobie Shack, Color Me Maui Photography, Good Living Project LLC, Healing Hands Hula Cookies & Ice Cream, HumBowbarks LLC, Kahele Maui Dream Dive Company, Jonerz and the Sparrow, Purebred Fisherman, Kalai La'au LLC, Jahja's Island Treasure, KZZ Enterprise Cotton, Malia, Mana'o Radio, Maui-Maui Made Handbags, Design, Pacific Chiropratic, Paradise Garden Soaps & Gifts Sol Chiropractic, The Aloha Shack, Unusual Designs, Wilikina Creations, Artful Scents, Maui Dream Dive. Honi Designs, Silk Sky, Zephyr Jewelry, Hex Press, Sun Flower Gifts, Advanced Wildlife, Hawaii Heritage Jewelers, Maui Vintage, Maui and Muse Design.
In addition, Azeka Shopping Center has a variety of eateries Mauka and Makai: Coconuts Fish Café, Diamonds Icebar & Grill, HomeMaid Café, Izakaya Genbe, Java Café, Maui Pie, Nalu's South Shore Grill, Miso Phat Sushi, Panda Express, Peggy Sue's, Roasted Chiles, Taco Bell, Wow Wow Lemonade, Vietnamese Cuisine, Peace Love Shave Ice, Nutcharee's Authentic Thai Food and Fork & Salad,.
*Visit these other fine Azeka Shopping Center Merchants: Visit these other fine Azeka Shopping Center Merchants: The Maui Quilt Shop, AA Oceanfront Rentals, Ace Hardware, Bank of Hawaii, B&B Scuba, Beauty Spa Maui, BEK, Inc., Blue Water Rafting, Endangered Pieces, Enterprise Rent A Car, Fortune Chiropractic, Hele Gas Station/Mini Mart, Island Art Party, Jonathan Thomas, DDS, Kaiser Permanente, Kihei Community Association, Kihei Wailea Flowers by Cora, Maui Powerhouse Gym, RVS Construction, Ocean Nail Spa, ProArts Inc, Snorkel Bob's, State Farm Agency, Territorial Savings Bank, U.S. Post Office, Zen Tattoo & Art Gallery, Hawaii Smile Designs, Susu's Studio & Design, Next Home Pacific Properties and South Shore Studio.
Volunteers and Special Donations: Aloha Waste Systems and MVB
Special Thanks to: Azeka Shopping Center, MW Group Ltd., Aloha Waste, Konea Massage & Bodywork by David Koerner, Sunrise Cleanup and  DJ Zeke.
Kihei 4th Friday is always looking for volunteers. If you are interested in giving back to your community and participating in an exciting monthly event, please contact us by email or posting to our Facebook page. For more information please go to www.kiheifridays.com, or www.facebook.com/kiheifridays.
About Kihei 4th Friday Town Parties:
Kihei Friday Town Parties are on the 4th Friday of every month
About Friday Town Parties:
Maui Friday Town Parties is an initiative developed by the Maui County Office of Economic Development to showcase our island's historic towns and celebrate the unique nature of their businesses communities. There is a town party nearly every Friday of the month: Wailuku First Friday, Lahaina Second Friday, Kihei Fourth Friday and Lanai Fifth Friday. For questions, contact the Maui County Office of Economic Development at economic.development@mauicounty.gov or 808.270.7710.
Time

(Friday) 6:00 pm - 9:00 pm