29apr6:30 pm8:00 pmMaui Sound Healing and Kirtan by Rasa Priya and Sarah SparklesGecko Guide:Alternative Health & Wellness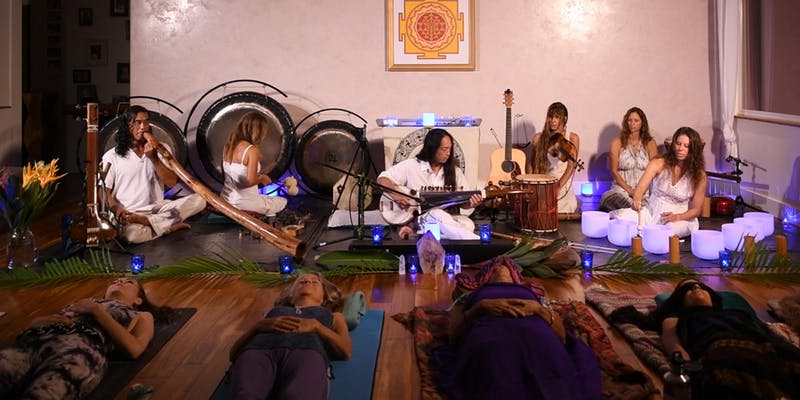 Event Details

Mon, April 29, 2019.  6:30 PM – 8:00 PM HST

STARTS AT 6:30 PM DOORS CLOSE AT 7:00pm

Please bring a mat and blanket

Welcome to Maui Sound Healing with Sacred Sound Alchemy- Experience a unique and divine journey through sound. Each week we bring you a variety of music, kirtan, chants and mantras and sound healing designed to restore balance and awaken what's inside of you.

The evening begins with interactive mantra chanting known as kirtan. Rooted in Vedic tradition, kirtan is a call-and-response style song or chant, set to music. It is designed to promote an individual's journey towards self awareness. A collection of unique and experienced musicians share their talents showcasing instruments including sarod, tabla, tanpura, guitar, harmonium, gongs, didgeridoo and crystal bowls. The evening then transforms into a deep relaxing and meditative adventure through sound healing (sound bath). Sound healing is one of the oldest and most natural forms of healing known to man. Cultures from around the world use the power of sound to restore one's mind, body and spirit back to a state of balance. The harmonic vibrations from the instruments have a deep penetrating effect on the receiver, promoting wellness and spiritual growth. Many listeners fall into a state of deep relaxation and meditation with no prior experience. The transcendental sounds act to reduce and eliminate mind chatter, leading to a release of deep rooted tensions and emotional blocks. People often emerge from the experience feeling lighter, balanced and rejuvenated.

Instruments-
Binaural beats-Theta patterns: which is associated with sleep in the REM, meditation and creativity.
Hemen sarod
Martin acoustic guitar
Crystal bowls
Riki Ram Tanpura
Harmonium
Om Wands
Shaman medicine drum
Korg synthesizer
Kartals
Mridangam
Dun drum
Native American flute
NVS cello
Full set of crystal singing bowls
Koji chimes
Djembe
Water phone
Didgeridoo
Violin
Rainstick
Planetary gongs (Sun, Jupiter, Mercury frequencies)
Sensula
Rattles
Octagon medicine drum
Hand Pan
Native American chants
Sanskrit Chants
Bija mantras

Please make sure to bring a blanket or yoga mat (or both) to use for a cushion beneath you when you lie down. As your body temperatures can drop when experiencing relaxation we recommended that you bring an extra shawl or blanket to cover yourself. We want you to stay warm and comfortable! A pillow for your head or under your knees, a covering for your eyes and a water bottle are additional items that can support your comfort.

WHAT TO WEAR
Comfortable clothing with layers that can provide warmth as needed.
Time

(Monday) 6:30 pm - 8:00 pm
Location

Heritage Hall

401 Baldwin Avenue