08may7:30 pm9:30 pmLed Kaapana - Grand Master of Hawaiian Slack Key GuitarMusical performanceGecko Guide:Culturally Significant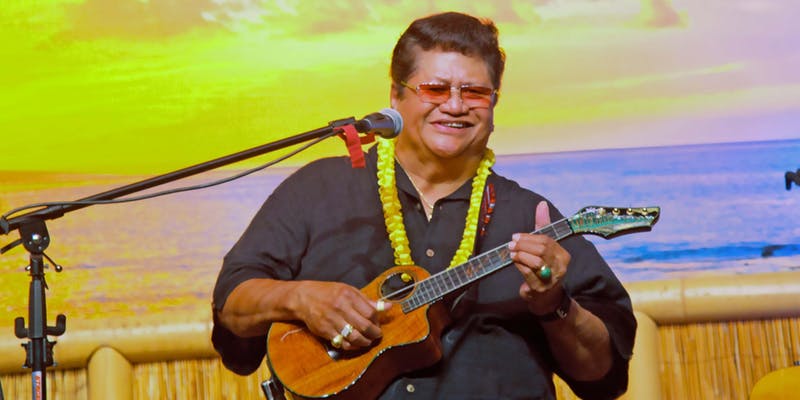 Event Details

Wed, May 8, 2019

7:30 PM – 9:30 PM HST

Doors: 6:45pm – Show: 7:30pm

All Show tickets are open seating. We offer two options for purchase:

Dinner and Show Tickets: $95.00:Dinner: 5:00pm at Sea House Restaurant (Napili Kai Beach Resort).Show: After dinner, walk to the Aloha Pavilion for the show. Doors open at 6:45pm, show begins at 7:30pm. Only Available with advance reservation.

Show Only Tickets:Tickets are $37.99 in advance online or by phone.Tickets are $45 at the door the night of the show.Show: Aloha Pavilion. Doors open at 6:45pm, show begins at 7:30pm.

All sales are final, no refunds available after purchase.

Special Guest Led Kaapana:

2011 NEA National Heritage Fellowship Recipient, Ledward Kaapana is Hawaii's premier master Slack Key guitarist. His inventiveness and fluidity, his versatility in multiple tunings, and his playfulness on stage, make him the leading master of this art, now recognized nationally by America's most prestigious award for the arts.

Led has been a professional musician for over 40 years. His mastery of stringed instruments and extraordinary baritone and leo ki`eki`e (falsetto) voice have made him a musical legend. His easy-going style and charm have made him a favorite of audiences throughout the world.

Led grew up in a musical family in the tiny village of Kalapana, there were few distractions and everyone played music.
It was at the frequent family gatherings that Led learned to play in the old style, watching, listening, then imitating. Chief among his teachers were his mother, Mama Tina Kaapana, and his uncle Fred Punahoa.

As teenagers, Led and his twin brother Ned and cousin Dennis Pavao formed the Hui `Ohana, one of the hottest groups of the 70s and 80s and now legendary among Hawaiian musicians. The 70s saw the blossoming of the Hawaiian Renaissance, and Hui `Ohana was a key part of that return to traditional Hawaiian culture and music. Young Hawaii Sings Old Hawaii, the title of their first recording, was also their statement of purpose. The group produced 14 best-selling albums and made countless hundreds of live appearances, proudly sharing Kalapana's musical traditions.

Led later formed another trio, I Kona, releasing 6 albums with that group, including Na Hoku Hanohano Award winner, Jus' Press. He has also released solo albums, including two Na Hoku Hanohano Instrumental Album of the Year winners, Lima Wela and Black Sand, the latter of which was recorded on George Winston's Dancing Cat Records. Led also recorded Led Live, Waltz of the Wind, Kila Kila Meets Kihoalu, and others on Dancing Cat..

In 2006, Led's Kiho'alu-Hawaiian Slack Key Guitar was nominated for the 48th GRAMMY Award for Best Hawaiian Music Album and won the 2006 Na Hoku Hanohano Award for Instrumental Album of the Year. Led was featured on three compilation CDs winning Grammy Awards for Best Hawaiian Music. His solo Grandmaster Slack Key and Force of Nature (with Mike Kaawa) received Grammy nominations and Force of Nature also earned Led & Mike the Favorite Entertainer Award at the 2009 Na Hoku Hanohano Awards. His newest recording is The Legend.

Led tours the US extensively. When home in Hawaii, he can be found on Sunday evenings at Kona Brewing Company in Hawaii Kai or once a month on Maui playing at George Kahumoku's Slack Key Show.
Time

(Wednesday) 7:30 pm - 9:30 pm