14jun5:00 pm8:30 pmLahaina @nd Friday Town Party- Na Kamehamhea HoolauleaFREE Community EventGecko Guide:Culturally Significant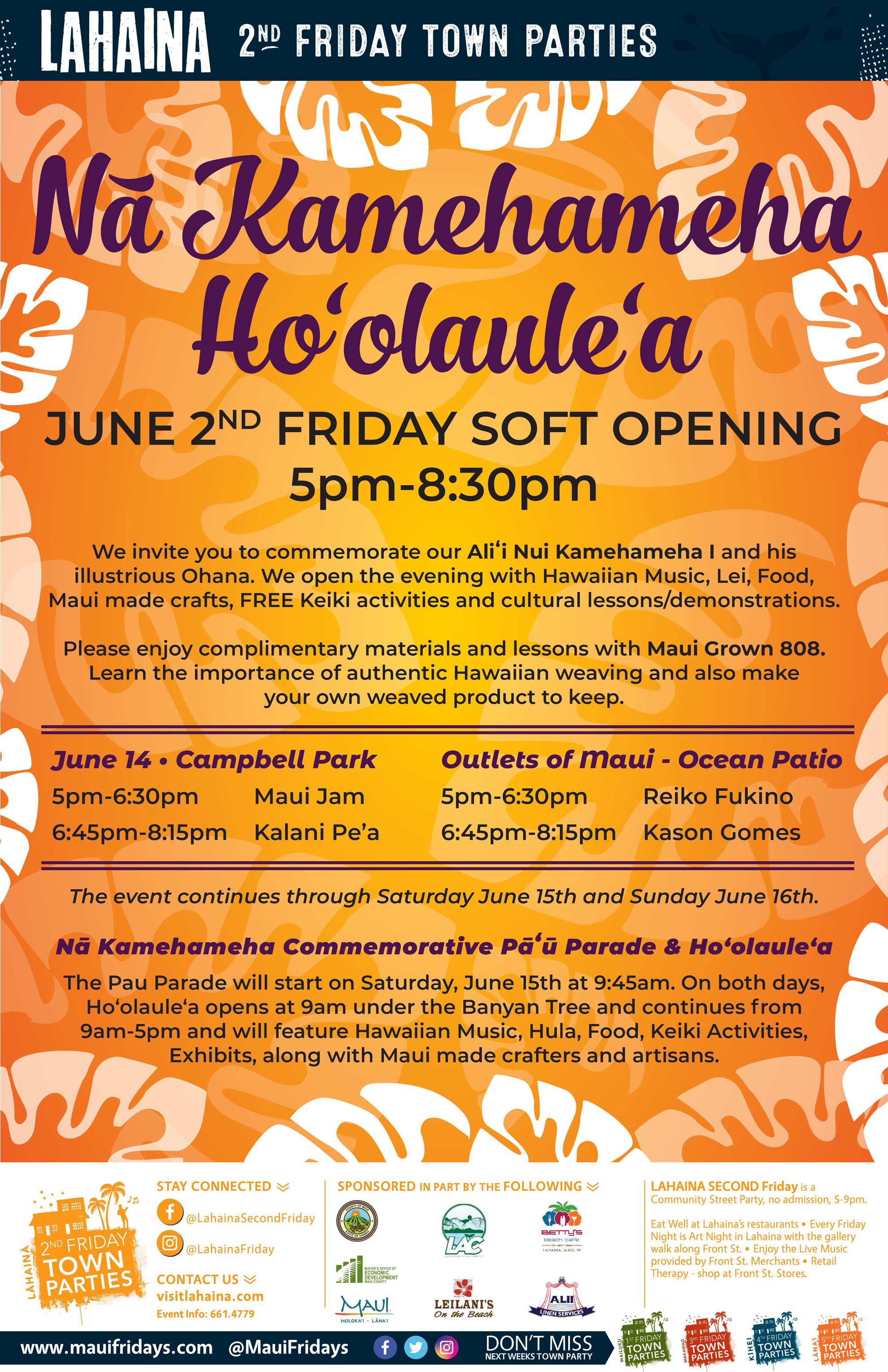 Event Details

Friday, June 14th:

Soft Opening: Na Kamehamhea Hoolaulea

5pm – 8:30pm

We invite you to commemorate our Alii Nui Kamehameha I and his illustrious 'Ohana. We open the evening with Hawaiian music, lei, food, Maui-made crafts and dishes, along with free keiki activities and cultural lessons and demonstrations. Learn the importance of authentic Hawaiian weaving and make your own weaved product to keep. 

The event continues through Saturday, June 15th and Sunday, June 16th for Na Kamehameha Commemorative Pa'u Parade & Ho'olaule'a.

The Pa'u Parade will be on Saturday, June 15th and will begin at 9:45 AM. On both days, the Ho'olaule'a opens at 9 AM under the Banyan Tree and continues from 9:00 AM-5:00 PM. The event will feature hula, Hawaiian music, food, keiki activities, exhibits and Maui made crafters and artisans.

500 BLOCK

Shops at 505:

5:00-10:00 PM  Spanky's Happy Hour 2-6 PM; $2 drinks f7-8; free pool; pet friendly

11:00-10:00 PM Surfside Pizza Happy hour from 2-4 PM and 7-9 PM

5:00-10:00 PM   Gallerie 505 – Meet a world-renowned artist!

600 BLOCK

7:30-10:00 PM  Cool Cat Café – Johnny Ringo

5:00-7:30 PM     Pioneer Inn – Happy Hour and Live Music

5:30-10:30PM   Down the Hatch –Fresh Squeezed Cocktails

10:00PM-1:00AM Down the Hatch – Late night DJ until 2 AM

Main Stage at Campbell Park:

5:00-6:30 PM     Maui Jam Band

6:40-8:15 PM     Kalani Pea

700 BLOCK

2:00-4:00 PM     Fleetwood's on Front Street – Rooftop Happy Hour

6:00-9:00 PM     Martin Lawrence Gallery – Live Performances and Specials

7:00-10:00 PM Fleetwood's on Front Street – Live Performances and Specials

800 BLOCK

6:30-10:00 PM  Sargent's Gallery – Meet the artist, live music, wine and pupus

3:00-5:00 PM     Kimo's – Happy Hour

900 BLOCK

The Outlets of Maui: Ocean Patio

3:00-5:00 PM     PI Artisan Pizza – Happy Hour and Pet Friendly Patio

5:00-6:30 PM     Reiko Funko

6:40-8:15 PM     Kason Gomes

LahainaTown Action Committee in partnership with Betty's Beach Café and Leilani's on the Beach work together to sponsor several West Side nonprofits. This assistance allows the nonprofits to fundraise and the event supports our community. Campbell Park has 'ono grinds from 5:00-8:00 PM. The LahainaTown Action Committee invites you to share in the fun while enjoying a live music concert with a cause.

Campbell Park:
Keiki Zone – Art and Activities for all ages, including bean bag toss and pig themed games/crafts
Live Entertainment from 5PM – 8:30 PM
Boys & Girls Club – Cookies donated by Leilani's on the Beach
Island Ladies and Gents –Kalua Pork and Rice Donated by Betty's Beach Café
Waiola Church – Beautiful Fresh Lei
Maui Writers Ink – Meet Local Authors
M&M Vintage – Locally made necklaces and earrings
Sarah Williams Collections – Local made art and jewelry
Color Me Maui Photography – Paia based Photography artists
Gypsy Kai – Japanese Glass style Jewelry
Maui Pie Pops – Cake Pops made in Maui
Mahalo to Lahaina Friday Event Sponsors: Waiola Church, Betty's Beach Café, Leilani's and Alii Linen.
For more information, please call Lahaina Visitor Center at (808) 667-9193. 
FRIDAY NIGHT IS ART NIGHT IN LAHAINA
Hele Mai – As the sun sets and Pau Hana begins, what better way to start the weekend than to shop the world-renowned art galleries, meet artists, talk story and share in some complimentary pupus and wine from 6:00-9:00 PM. Pick up your free Art Map compliments of the Lahaina Visitor Center at Campbell Park.
LAHAINA ART GALLERIES
Kai Pua Gallery – Live glass blowing, meet the artists
Peter Lik Gallery – Special promotions on art
The Village Gallery – Refreshments and music
Simon Jon Gallery – Unique Hawaiian wood bowls by Jonathan Somaoang; offering 10-20% off select items
Sargent's Fine Art – Live music, art, pupus and wine
Martin Lawrence Gallery – World Class Masterworks Collection featuring Picasso, Warhol, Dali, Changall and Miroi; wine and pupus; live jazz by Gary Larson
Kingwell Island Art – Meet the artist Jim Kingwell
Daryl Millard Gallery – Meet the artist Daryl Millard
Lahaina Printsellers – Meet their featured artist!
Vintage Posters
Higgins Harte Gallery International
505 Gallery – Free Raffle, largest gallery on Maui
Joelle C. Gallery – Meet acclaimed Hawaii artists, on site every Friday.
MERCHANT, RESTAURANTS & FOODIE SPECIALS
Ono Gelato Company: Gluten-free baked goods; homemade gelato-filled cannoli; 10% kama`aina discount
Kimo's: Free hula pie with coupon; stop by the Lahaina Visitor Center for coupons
Kobe Japanese Steakhouse & Sushi Bar: 20% kama`aina discount on teppanyaki dining,
The Pioneer Inn: $5 pupu menu
Atlantis Submarines: 20% off submarine tours
Banyan Treats: 10% discount on full menu
Bubba Gump Shrimp Co: Join us for happy hour after the event! Includes $5 appetizers and $3.50 domestic drafts starting at 9:00 PM
Pi Artisan Pizza: Happy hour 3:00-5:00 PM with discounted pupus and drink specials
Betty's Beach Café:  Prime Rib Night 4:00-9:00 PM; $19.95
Koa's 156:  All day special Ocean Vodka Moscow Mule
THE WHARF CINEMA CENTER DINING TOWN PARTY SPECIALS
Amigo's Authentic Mexican Food: (Coupon "This Week Maui") Buy one entree get 50% off the second
Captain Jack's Island Grill: 10% off kama'aina discount
Cool Cat Cafe: 20% off kama'aina discount
Maui Island Coffee: $2 off 1-lb 100% Kona Coffee
Tiki Tiki Thai Cuisine: 10% off food only
Pho Saigon 808: 10% off food only
New Restaurants to check out at the Wharf: Dim Sum Mixed Plate and Indian Grill N Curry
THE WHARF SHOPS TOWN PARTY SPECIALS
Atlantis Submarines: 20% off kama'aina discount
Crazy Shirts: Screen-printing demo; complimentary screen-print with purchase
Hangloose Hammocks: $5 off any hammock
JY Treasures: Free gift with purchase of $50 or more
KC Hawaiian Fashions: Free gift with purchase of $50 or more
Lahaina Lifestyle: 10% off regular-priced items
Lana's Boutique: 10-50% off sterling silver & handmade jewelry
L'Infini: 20% off jewelry; 10% off gift items
Quilts 'N Fabric: Free gift with purchase of $50 or more
Simon-Jon Gallery: 10-20% discount on select items
T-shirt Factory: Buy 4 shirts and get 5th one free
Three D Gallery: Free gift with purchase of $50 or more
BALDWIN HOME MUSEUM
The popular candlelit tour of the Baldwin Home Museum will be held from 6:00-8:30 PM. The museum is located on the corner of Front and Dickenson Streets. The $7 fee includes admission to the Wo Hing Museum at 858 Front Street. Children 12 and under accompanied by a paying adult are free. For more information and a schedule of upcoming events, please contact Lahaina Restoration Foundation at (808) 661-3262 or visit www.lahainarestoration.org.
About Friday Town Parties
Showcasing the unique nature of our historic towns, Maui Friday Town Parties bring the community together for a pau hana night of outdoor music, art, food and Maui culture. There is a town party every Friday of the month: Wailuku First Friday, Lahaina Second Friday, Makawao Third Friday, Kihei Fourth Friday and Lanai Fifth Friday. Residents are encouraged to kick back and enjoy the fun. Free.
Time

(Friday) 5:00 pm - 8:30 pm