08dec10:00 am4:00 pmIntroduction to Soul HealingworkshopGecko Guide:Alternative Health & Wellness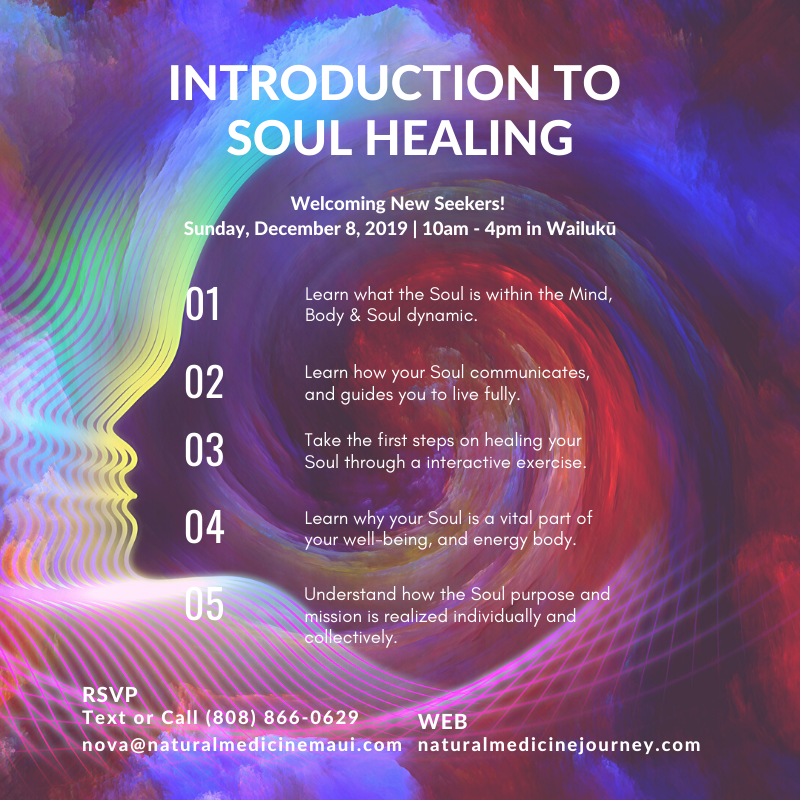 Event Details

Sunday, December 8, 2019   10am – 4pm

Calling all those who are inspired to feel vibrant, joyful and unshakable! Introduction to Soul Healing happening Sunday, Dec. 8th from 10am – 4pm. This is my first workshop, and will free!Learn what the Soul is within the Mind, Body & Soul dynamic.

Learn how your Soul communicates, and guides you to live fully.

Take the first steps on healing your Soul through a interactive exercise.

Learn why your Soul is a vital part of your well-being, and energy body.

Understand how the Soul purpose and mission is realized individually and collectively.

Please bring your own lunch. There will be a refrigerator to store any items. Light refreshments will be available.

Mahalo, and look forward to having you join me!

RSVP via text or call (808) 866-0629 or email nova@naturalmedicinemaui.com

Nova is an Energy Healer and Life, Love & Spiritual Guide working in partnership with the loving and pure essence of LIFE, the highest spiritual allies, and the gifts of nature to empower women, men and children in these high changing times.

Ohana Care Maui-  1464 Lower Main St. Unit 211 · Wailuku, HI

Upstairs, second floor, inside the Ohana Care Maui office!
Time

(Sunday) 10:00 am - 4:00 pm