21mar6:00 pm7:30 pmHidden Treasures from the Micro World…The Microscope Photography of Gary Greenberg, PhDGecko Guide:Non-Profit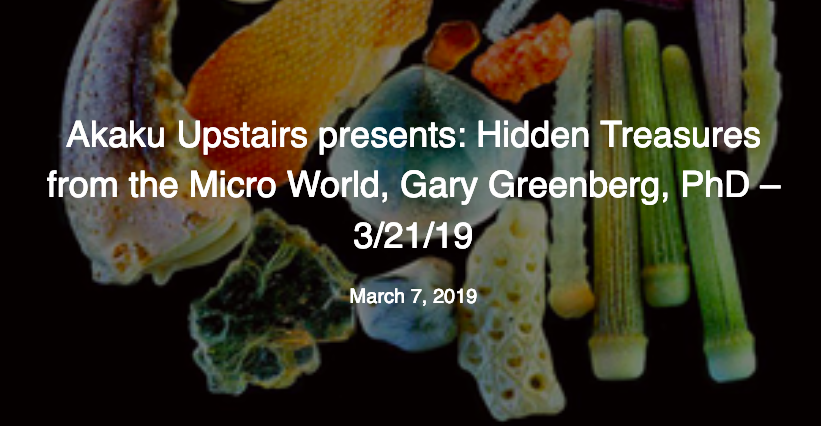 Event Details

Hidden Treasures from the Micro World…


The Microscope Photography of Gary Greenberg, PhD
Gary Greenberg is a scientist, author, teacher and photographer who combines his passion for art and science by exploring the hidden dimensions of nature. The secrets of nature are visible everywhere. Yet, they remain secrets until they are revealed.
Since 2001, Dr. Greenberg has focused his microscope on common objects, such as grains of sand, flowers, and food, which take on a new reality when greatly magnified — a reality seen as abstract form and color, motion and texture. He says, "Art is a doorway through which we can more deeply embrace nature." The miracles of nature are tangible, and they can be seen directly through the microscope.
Dr. Greenberg photographed moon sand returned from NASA's Apollo 11 Mission and his 3D technology is being used for a new microscope being built for the International Space Station. His mission is to reveal the beauty of the microscopic landscape that makes up our everyday world.
Presentation: Dr. Greenberg will combine visual presentations about beach sand and flowers to fill the evening with imagery well-suited to our island home. He will share his experience as a scientist/artist and his use of art as a doorway through which we can more deeply embrace nature.
What: Akakū Upstairs presents: Hidden Treasures from the Micro World with Dr. Gary Greenberg
Where: 333 Dairy Rd. Ste. 204 Kahului, HI 96732
When: Thursday, March 21, 2019,  from 6pm – 7:30pm
RSVP: https://conta.cc/2EDEz1Z
Time

(Thursday) 6:00 pm - 7:30 pm
Location

Akaku Upstairs

333 Dairy Rd. Ste. 204