04mar5:30 pm7:00 pmFree Talk by Mark DeakosHosted by Maui Nui Marine Resource CouncilGecko Guide:Eco-Friendly & Sustainable,Non-Profit,Preservation & Conservation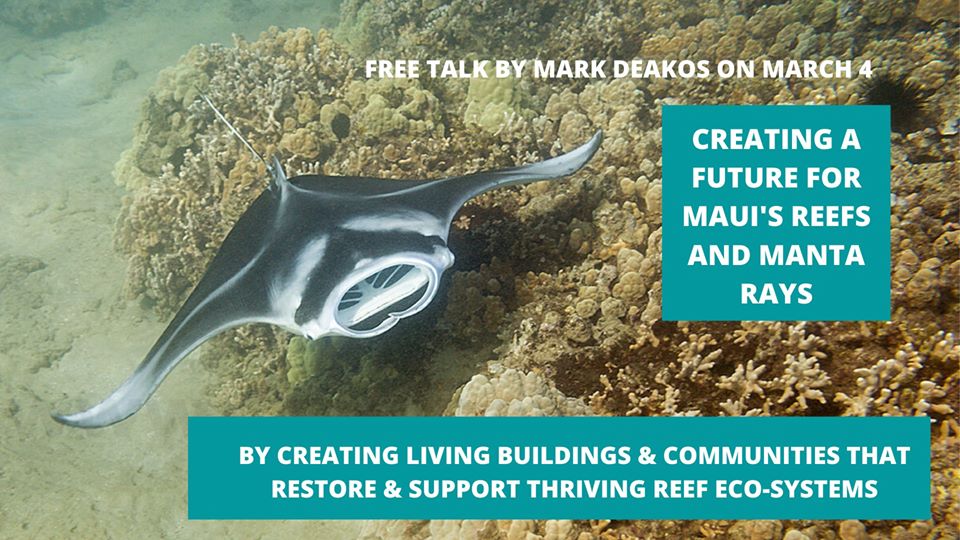 Event Details

Wednesday, March 4, 2020 at 5:30 PM – 7 PM

Mark Deakos first began studying Maui's manta rays for his Ph.D. By 2010 he had described the largest known population of manta rays in the United States with over 400 unique individuals. But over the past decade, much has changed. At one time aggregations as large as 30 manta rays could be seen but today, sightings of even a single adult are rare.

To learn more about the status of Maui's manta ray population – and solutions to restore the health of our nearshore marine environment, including water quality, our coral reefs and our precious manta ray populations, please join us for a talk by Mark Deakos at Maui Nui Marine Resource Council's "Know Your Ocean Speaker Series" event on Wednesday, March 4 at The Sphere at Maui Ocean Center.

This event is free and open to all, but seating is limited. Advance reservations are recommended. Reserve at http://bit.ly/Deakos

In addition to sharing some amazing video footage of Maui's manta rays, Deakos will present a framework of regenerative design that is sweeping the country; building and community designs that restore habitat and culture, control stormwater, recharge aquifers and streams, and improve the health and well-being of the people, plants and animals and our coral reefs.

"Imagine nurturing places that promote healthy lifestyles for people and have a positive impact on our coral reefs and marine wildlife," says Deakos. "Come learn about Living Buildings and Living Communities that generate their own energy, capture and treat all the water they need, eliminate toxins and waste, and support the restoration of our nearshore ocean environment."

The talk will include details on the Living Building Challenge and Living Community Challenge, performance standards born out of the International Living Future Institute (ILFI) which offer global strategies for lasting sustainability. By partnering with local communities, the International Living Future Institute works to inspire and incentivize green building and infrastructure solutions, on scales ranging from single room renovations to neighborhoods or whole cities.

"This type of sustainable development is fully possible on Maui," says Deakos.

The "Know Your Ocean Speaker Series" is presented by Maui Nui Marine Resource Council to introduce the public to marine research and conservation efforts to protect Maui's ocean resources. This series offers a free presentation every month, usually on the first Wednesday of the month. Maui Ocean Center generously donates the use of The Sphere for these presentations. The series is supported by the County of Maui Mayor's Office of Economic Development.
Time

(Wednesday) 5:30 pm - 7:00 pm
Location

Maui Ocean Center, The Aquarium of Hawaii

192 Maalaea Rd