26oct11:00 am1:00 pmFirst Annual Howl-O-Ween EventMaui Humane Society eventGecko Guide:Non-Profit,Preservation & Conservation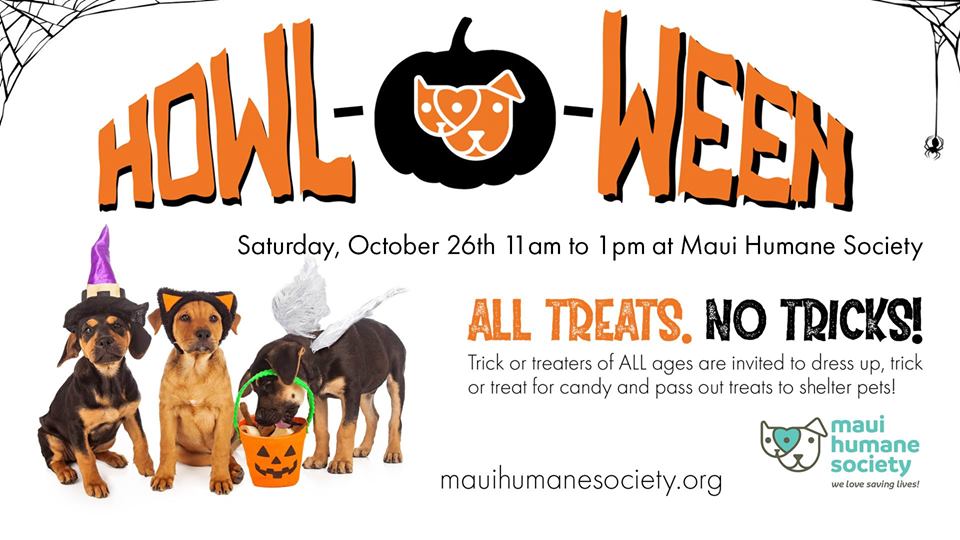 Event Details

Maui Humane Society Kicks Off First Annual
Howl-O-Ween Event on Saturday, October 26, 2019 from 11am-1pm.

Trick or treaters of all ages are invited to dress up, trick or treat for candy, and pass out treats to shelter dogs wearing Halloween costumes. All candy and dog treats will be provided by Maui Humane Society. Maui Humane Society will also be offering Pick Your Price adoption fees on any animal for the entire day.
"We are so excited about this new Howl-O-Ween event and we are ready to welcome the community into the shelter for a day of fun and trick or treating," said Jamie Fitzpatrick, COO, Maui Humane Society.

For anyone unable to make it to the event, you can help homeless animals by sending treats to MHS from their Amazon Wish List. To donate or for more information, please visit the Maui Humane Society website at: www.mauihumanesociety.org or call (808) 877-3680 ext. 240 for more information. Maui Humane Society is open 7 days a week from 11am-6pm.

About Maui Humane Society
Maui Humane Society is a 501(c)(3) non-profit, serving the community for over 60 years and is Maui's only open admission shelter. Our mission is to protect and save the lives of Maui's animals, accepting all in need, educating the community and inspiring respect and compassion toward all animals. The Maui Humane Society takes in more than 6,200 animals annually, and serves many times that number through community outreach programs. Equally important, through the many programs and services offers, MHS provides support for Maui's approximately 90,000 pet owners as well as Animal Management Services for the County of Maui.
Time

(Saturday) 11:00 am - 1:00 pm
Location

Maui Humane Society

1350 Mehameha Loop