01dec9:00 am5:00 pmFilm Screening: Perpetuating Aloha at Home and Abroada screening of conservation and cultural filmsGecko Guide:Culturally Significant,Preservation & Conservation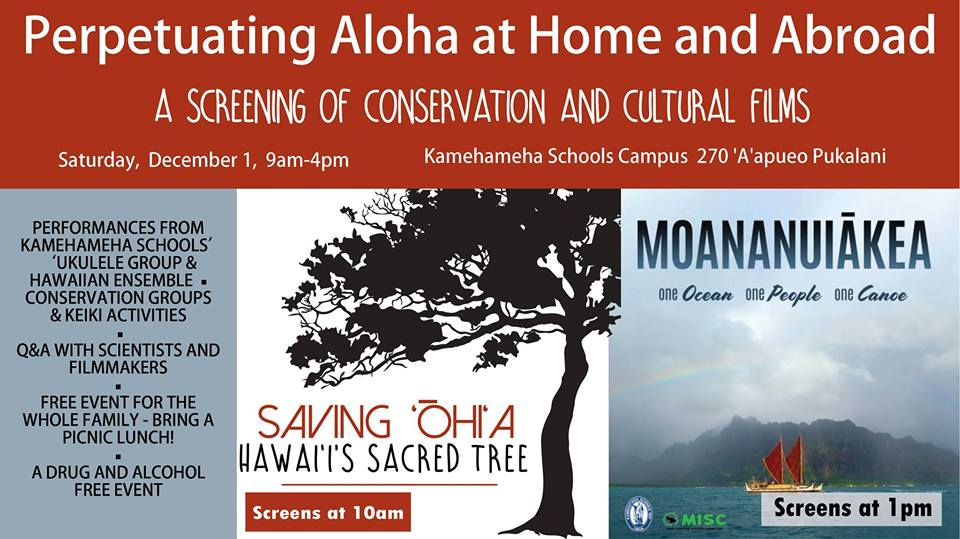 Event Details

Join the Maui Invasive Species Committee (MISC) and Kamehameha Schools Maui on Saturday, December 1st for a screening of two documentaries: "Saving ʻŌhiʻa, Hawaiʻi's Sacred Tree" about the efforts throughout Hawaiʻi to prevent the loss of Hawaiʻi's most important native tree to a disease called Rapid ʻŌhiʻa Death, and "Moananuiākea, One Ocean, One People, One Canoe," documenting the three year journey of the Hōkūleʻa's historic worldwide voyage.

Kamehameha Schools Maui will be hosting the event. "We invite our ʻohana and community to come and enjoy a day with us on campus." said Dr. Scott Parker, Head of Schools at Kamehameha Schools Maui. The event will be held at the Keōpūolani Hale and Courtyard on the high school campus at 270 ʻAʻapueo Parkway in Pukalani. Families are welcome to bring a cooler and picnic lunch. The Middle School ʻukulele group will open in the morning, and the High School Ensemble will perform mid-day. The event is free and begins at 9:00 a.m. Conservation groups will be present, and keiki ʻōhiʻa activities will be set up from 9 a.m. to 1 p.m. This is an alcohol and drug-free event.

"Saving ʻŌhiʻa, Hawaiʻi's Sacred Tree" will be shown at 10 a.m. followed by a panel discussion about the significance of ʻōhiʻa and Rapid ʻŌhiʻa Death (ROD) from 10:40 to 11:45 a.m. Conservation groups will be on hand at 9:00 a.m. until 1:00 p.m. to discuss their work and answer questions about ROD prevention efforts here on Maui. At this time, ROD has not be detected on the Valley Isle.
"Saving ʻŌhiʻa, Hawaiʻi's Sacred Tree" was funded through a grant from the Hawaiʻi Invasive Species Council to the University of Hawai'i– Coordinating Group on Alien Pest Species (CGAPS). Club Sullivan, a Hawaiʻi Island production company, concluded filming in late 2017, although additional footage continued to be added throughout post-production as new information and events unfolded, pushing the final back to July 2018.

"Moananuiākea, One Ocean, One People, One Canoe" will screen from 1 p.m. to 3:30 p.m., and filmmakers will be available to answer questions following the screening from 3:30 p.m. to 4:00 p.m. The film was produced by ʻŌiwi TV in partnership with Palikū Documentary Films and sponsored in part by Kamehameha Schools and Olukai with support from the Polynesian Voyaging Society. The feature-length film was created from over 4,000 hours of footage and half a million still-pictures and captured the prestigious closing night film spot for the 2018 Hawaiʻi International Film Festival.

About Maui Invasive Species Committee
The Maui Invasive Species Committee project of the University of Hawai'i- Pacific Cooperative Studies Unit. The Committee is voluntary partnership of government, private and non-profit organizations, and concerned individuals working to prevent, control, or eliminate the most threatening invasive plant and animal species to protect Maui's watersheds, ecological resources, agriculture, and community.

About Kamehameha Schools
Founded in 1887 by Princess Bernice Pauahi Bishop, Kamehameha Schools (KS) is a private, educational, charitable Native Hawaiian trust committed to improving the capability and well-being of our people through education. Income generated from its endowment portfolio of commercial real estate and other diverse investments funds more than 96 percent of KS' educational mission.
In 2015, Kamehameha Schools embarked on a bold, exciting voyage that envisions, in one generation, a thriving Lāhui in which all learners achieve post-secondary educational success, enabling good life and career choices. Grounded in Christian and Hawaiian values, learners will be leaders who contribute to their communities locally and globally.
At the heart of this journey are those who share this vision to ensure that all Native Hawaiians have the opportunity to succeed. Strong community collaborations, donor participation and key state, national and international partnerships are vital to creating the means to propel learners onto knowledge and career paths of their choice. Visit ksbe.edu for more information.
Time

(Saturday) 9:00 am - 5:00 pm
Location

Kamehameha Schools Maui Campus

270 Aapueo Pkwy