18nov5:30 pm8:30 pmBringing Sexy Back to the KauhaleKalani Young, Hale Māhū -free public lectureGecko Guide:Culturally Significant,Non-Profit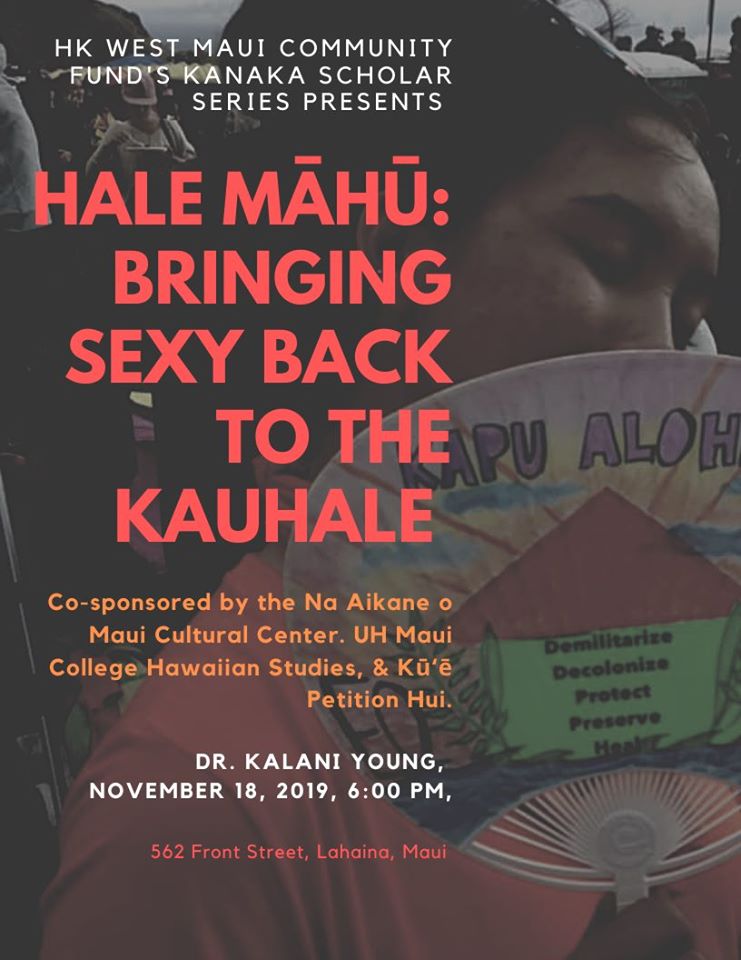 Event Details

For the second year in a row, the Na Aikane o Maui Cultural Center will be hosting a free, public West Maui Kanaka Scholars lecture series, cosponsored by the HK West Maui Community Fund, the University of Hawai'i Maui College Hawaiian Studies Department, and the Kū'ē Petition Hui. The lectures occur monthly on the third monday of the month.

Our next speaker is Dr. Kalani Young, Lecturer at the University of Hawai`i. November 18, 2019 at 6pm

The series features a host of new and established scholars and innovators and their research and work on Hawai'i and Hawaiian communities. Upcoming speakers include Professor J. Kēhaulani Kauanui of Wesleyan University and the author of Paradoxes of Sovereignty (Duke UP 2018); Professor David Chang, University of Minnesota, author of The World and All the Things Upon It: Native Hawaiian Geographies of Exploration (U. Minn Press 2016); Prof. Ty Tengan of UH Manoa Ethnic Studies and author of _Native Men Remade_; Dr. Kekuewa Kikiloi from the Hawai'inuiākea School of Hawaiian Knowledge; Dr. Jamaica Osorio, Assistant Professor of Indigenous and Native Hawaiian Politics, University of Hawaiʻi at Mānoa; and Dr. Kekoa Harman, Associate Professor, Ka Haka ʻUla O Keʻelikōlani, College of Hawaiian Language, UH-Hilo, will present his talk, "I Lālā Mau Nā Hula Ilalaole: Continuing the Hula of Joseph Ilalaole, a Native Speaker from Puna, Hawai'i."
Dr. Kaliko Baker, Associate Professor at the Hawai'inuiākea School of Hawaiian Knowledge at the University of Hawai'i at Mānoa initiated the series with his discussion of the re-awakening and re-establishing of Kanaka Maoli traditional religious practices on July 15, 2019. Other past speakers include Noenoe Silva, Professor of Hawaiian and Indigenous Politics and Cooperating Faculty of Kawaihuelani Center for Hawaiian Language.

These events are free and open to the public. Doors open at 5:30. Public lectures begin at 6:00pm. Dinner or heavy pupus will be served. Na Aikane is located at 562A Front Street, Lahaina, Maui.

Co-sponsored by Na Aikane o Maui Cultural Center, UH Maui College- Hawaiian Studies and The Ku`e Petition Hui.
Time

(Monday) 5:30 pm - 8:30 pm
Location

Na'aikane O Maui

562A Front St.