05oct12:30 pm6:00 amAloha ʻĀina Kūkahi Unity MarchLahaina, MauiGecko Guide:Culturally Significant,Preservation & Conservation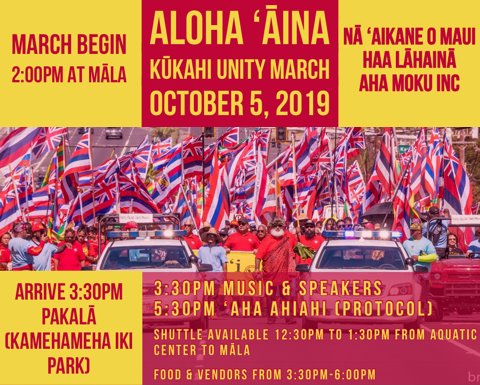 Event Details

Saturday Oct. 5,  2019. 12:30 PM – 6 PM

Maui Mauna Kea kiai have organized this march to coincide with other Unity marches being held across Hawaiʻi on October 5th. Please stay after the march to participate in ʻAha Ahiahi (Evening Protocol) to coincide with ʻAha Ahiahi at Mauna Kea.

Parking available at the Lahaina Aquatic Park. Shuttle service will be available from the Aquatic Center to Malā from 12:30 p.m. to 1:30 p.m. **We request that you drop off your ʻohana at Malā first and reserve the shuttle service for drivers only. This will help us to run the shuttles smoothly. **

March begins at 2:00 p.m. from Malā (Jodo Mission side). We will be marching along Alanui o ka Mōʻī (Front Street) to Pakalā (Kamehameha Iki park).

Music & Guest speakers at Pakalā with Food & Vendors across the street at Nā ʻAikāne O Maui Cultural Center until ʻAha Ahiahi at 5:30 p.m. We encourage all who know the oli, pule and hula to join us.

::::See full schedule below::::
—————————————
Things you should bring:
– Reusable water bottles: to refill from our water stations. PLEASE STAY HYDRATED!
– Hats, sunglasses, umbrellas: to shade yourself from the sun
– Sunscreen
– Chairs, mats, or hāliʻi (blankets), to sit and enjoy the music, guest speakers and protocol
– Hae Hawaiʻi & Kū Kiaʻi Mauna gear
– Kapu Aloha

For more information please follow:
FB & IG: @HAALahaina
website: www.haalahaina.org

Mahalo to Nā ʻAikāne O Maui, Hui Aloha ʻĀina o ka Malu ʻUlu o Lele & ʻAha Moku O Maui for putting this together.
Time

(Saturday) 12:30 pm - 6:00 am