13dec7:30 pmRebelutionreggae musicGecko Guide:Alternative Health & Wellness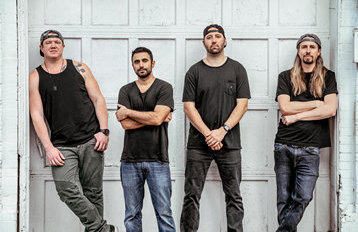 Event Details

Rebelution

Yokouchi Pavilion & Courtyard

Friday, December 13, 2019 – 7:30 PM

California reggae band and touring juggernaut Rebelution remains abundantly creative into its 15th year. Band members Eric Rachmany (singer/guitarist/lyricist), Rory Carey (keyboardist), Wesley Finley (drummer), and Marley D. Williams (bassist) are as focused and committed as they are easygoing and laid-back.

Rebelution formed in Isla Vista in 2004 when a group of college friends discovered a mutual love for reggae. After their debut album Courage to Grow reached #4 on the Billboard reggae chart, there was no stopping them. The band remains in touch with the traditions that it builds on. But every great band is its own life force as well, and the musicians of Rebelution take inspiration from other genres, including soul, r&b, and folk.

Free Rein, their sixth studio album, while still rooted in the Jamaican inspiration that Rebelution's songs and sounds have always paid homage to, takes experimental leaps and new adventures too, welcoming old fans and new audiences alike. The musicians collaborated with Jamaican artists on three of the 12 new tracks.

With Free Rein, Rebelution is poised to continue spreading the joy. The band boasts an impressive 85 million spins on their Top 5 Spotify tracks alone, and will continue playing sold-out shows as well as taking the coveted headlining slots at some of the nation's top festivals this year.

Ever expanding and reaching wider audiences, the Rebelution phenomenon continues to spread good vibes on tour and in the studio.

Opening act:  Through the Roots

Tickets: $39.50, $49.50 GA; $69.50/VIP
(Plus applicable fees) Prices increase $5.50 on day-of-show

VIP price ticket includes premium viewing locations, cash bars for beer and wine purchases, & side-stage scattered tables and chairs. MUST BE 21yrs & OLDER with valid ID to enter VIP section.

NO seats are provided for General Admission concerts.
Location

Maui Arts and Cultural Center

1 Cameron Way