ConsciousMaui.com Surf and Weather Forecast Explained
Aloha!
ConsciousMaui.com posts a Surf and Weather Forecast everyday on Twitter , Facebook and on our Maui Surf & Weather page.
Our compact forecast takes a no-nonsense approach and is packed with all the important information you need – whether you are new or seasoned pro in the sport of surfing, windsurfing or kite-boarding or if you simply want to know if it is a good day to go swimming, snorkeling, SUP'ing etc.
Here is a short explanation post for those new to surf, wind and water sport forecasts. We promise – it's super easy and your friends will be impressed when you speak "Surf Forecast" : )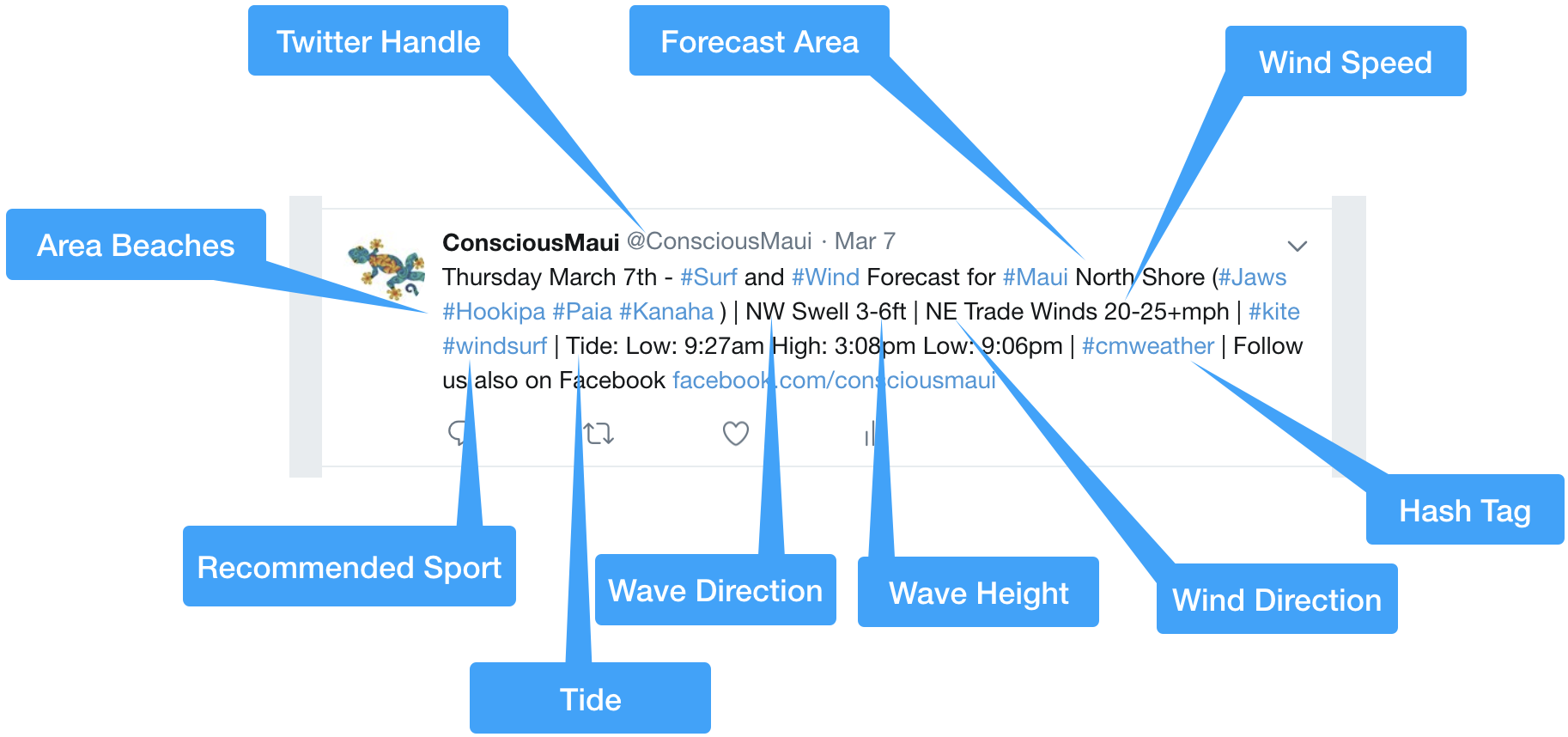 Twitter Handle:
That's our "username" on Twitter. It is also part of our Twitter URL. "https://twitter.com/ConsciousMaui".
You can use our Twitter handle if you want to include us in a post of your own. For example: "Loving Maui. Getting some Organic Food before going to the Beach. Thank you @ConsciousMaui for telling me where to go"
Forecast Area:
Maui beaches are referenced and named by the direction they are facing. North Shore, South Shore, West Side (nobody calls it West Shore for some reason) and East Side (often referred to simply as "Hana Side"). You will also hear "Upcountry" obviously not relevant to a surf report : )

P.S You will notice that in the Winter time we only post a surf report for "North Shore" Maui. Reason is that the South and Lower West Side goes pretty much flat during the winter.
Area Beaches:
We list out 3 or 4 of the most popular and well known beaches in the forecast area. It helps new visitors better identify the area and by adding a hashtag (#) in front of the beach name it makes our forecast better searchable on Twitter and Facebook.
Wave Direction:
Waves breaking on Maui (and Hawaii in general) usually originate from very powerful storms with very strong winds that blow for days on end thousands of miles away. These strong winds generate waves and send them on their journey to Hawaii.
Try at home – next time when taking a bath blow over the surface of the water and watch your waves travel. Now imagine a small Island chain toward the end of your bath tub with nice beaches and shallow coral reefs. The waves will hit those reefs and break. That's the secret to the surf in Hawaii. The longer those waves travel through the ocean the cleaner they will become.
A typical Hawaii and Maui winter "NW Swell" – NW meaning waves that come from the "North West" usually originate from storms in Alaska. 2000+ miles away.
Typical Hawaii and Maui summer "S Swell" – S meaning waves that come from the "South" usually originate from storms roughly in the region of NewZealand.
Pro-Tip: A NW swell will be biggest on NorthWest, North and North East facing beaches. Don't expect a North Swell to generate any waves on the "South Shore" of Maui.
Wave Height:
Indicates the height of the waves measured from the back of the wave in feet. The "face" of the wave (which is what you see looking from the beach) is usually larger. Many other places in the world report the wave height based on the face (biggest part). Not so in HI. This is why many people are amazed that a 3-5ft day in Hawaii would likely be called 8ft or more elsewhere.
You will also often see a plus (+) behind the wave height in our forecast. For example "NW Swell 5-8ft+" This indicates that every so often a bigger set of waves has to be expected.
Additional information and words we add are:
"Holding" – means that the waves will break all day and night at the current height.
"Rising" – means the waves are expected to get bigger. We generally indicate when such as am/pm and how much bigger.
"Declining", "Dropping" – means the waves are expected to get smaller.
"Fresh Energy", "Reinforcing Swell" – means existing waves will be joined by waves from a newer more recent storm.
"Short Period" – means the waves are not generated by storms thousands of miles away, but are generated by a storm or wind more locally to the Hawaiian Islands. Generally those waves are not as clean and break in quicker succession.
Wind Direction:
Indicates the wind direction of where the wind is coming from. Maui and Hawaii are located in the "Trade Wind" belt. Which makes for a dominant wind direction from the North East (NE).
During the winter time "Kona" winds can shut down the Trade Winds and cause the wind to blow from the South-West (SW). Those winds often bring Volcanic Haze called VOG with them from the Big Island
Wind Speed:
Unique to Maui is that the NE Trade Winds are accelerated by Volcano Haleakala and the WestMaui Mountains. Their relative positioning to each other create a venturi effect.
Hence Windsurfing and Kiteboarding is more popular on Maui than any other of the Hawaiian Islands. Surfers, SUP'er, Swimmer and Snorkeler will need to be smart about where and when they go.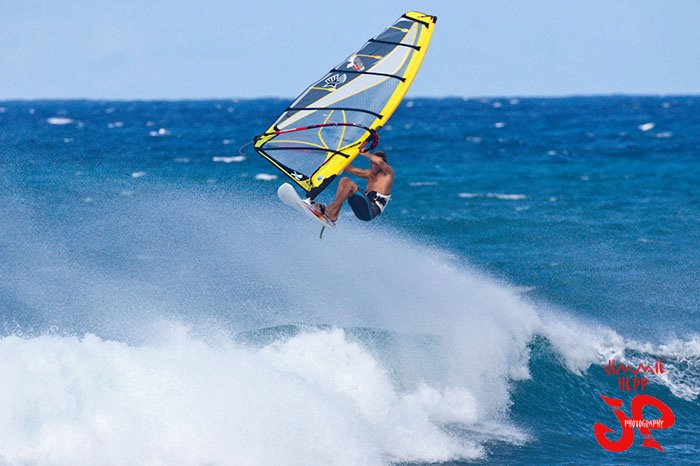 (Windsurfer Thomas Hasch sailing at Ho'okipa Beach Park Maui. Photo by Jimmie Hepp)
The Trade Winds generally don't pick up full strength until 11:30pm and start to mellow around 5pm. Trades are strongest and most reliable in the summer.
Maui's North Shore gets the full wind exposure and can have winds blowing around 25mph while Wailea and Lahaina have a moderate 8mph due to wind shadowing.
Tides:
Maui's tidal range is around 2-3 feet for all shores. Tides can make a difference when it comes to wave shape and quality. Generally all known surf and snorkel reefs on Maui have enough water to be accessible and surf-able during all median tide cycles.
Hashtag:
We are using what is called a "hashtag" to categorize our Surf and Weather Forecast tweets.
If you are on Maui and have a current weather related picture or tweet simply tag it with #cmweather
-> We will feature your pic and tweet on our Surf and Weather page.