Posts in the 'Markets/Grocery Stores' Category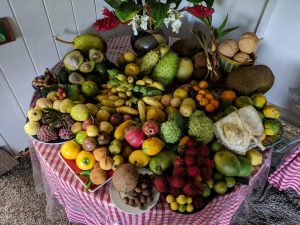 Whether you live on Maui or are here on vacation the farmer's market is something worth exploring. If you come to Maui for vacation be sure to include the farmer's market as a must do activity, especially if you are a foodie like me. Not sure? Read on, give me a chance to convince you that there is a reason the farmer's market is the place the locals really go.
1. No Carbon Footprint – Almost no fossil fuels are used in transportation of local produce to the farmer's market. Maui is about 2,400 miles from the Mainland. Fuel consumption for food to travel by air cargo from the Mainland to Maui creates an obscene carbon footprint compared to the 15 minute drive from Kula to Pukalani in a van or pick-up truck.
No packaging! If produce is needing to be bundled, take kale or chard for example, some of the Maui farmers use the biodegradable stringy material from a banana tree to create bundles. Brilliant! Bring your own basket or bag. In fact, bring more bags than you think you will need. I often have to make two trips back and forth to my car because I find so many amazing things to try. And I have a family of only two! Read more »