Maui Ocean Center Marine Institute- Saving Honu
The Maui Ocean Center Marine Institute shares with us an uplifting story of saving an injured honu.
This past Saturday, December 7th, MOC Marine Institute's Sea Turtle Rescue Team released Pualani, a juvenile honu named in recognition of our partners at Hawaiian Airlines.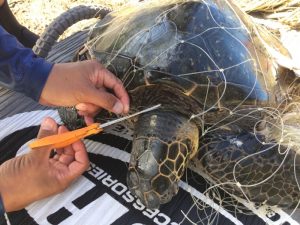 Pualani was rescued in late November when the young turtle was found entangled in fishing line. The line was wrapped around the turtle's neck, right front flipper, and its right hind flipper. Unfortunately, the line was deeply embedded in the front flipper resulting in severe damage and requiring surgery by our partners at NOAA Fisheries in Honolulu.
With the help of Hawaiian Air Cargo, we were able to ship Pualani to Honolulu quickly for surgery; however, due to the severity of the injury, Pualani's flipper required amputation. The veterinary team at NOAA performed the successful surgery and in just a few weeks, Pualani was cleared for release and flown back to Maui.
Pualani has the tag 'MA02' on the side of her shell for identification. If you happen to come across her while snorkeling, please let us know by calling 808.286.2549 or by email at info@mocmarineinstitute.org.
All MOC Marine Institute sea turtle stranding response & rescue activities authorized under NOA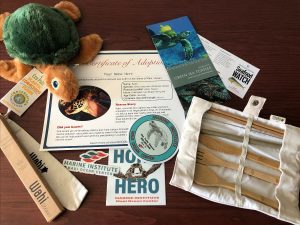 A Permit: 21260.
If you are interested in supporting the activities of the MOC Marine Institute please feel free to donate or consider adopting a a sea turtle.  Each adoption certificate is unique and will share the story of a sea turtle that your donation helped rescue.  Sea Turtle Adoption Packages are $30 or $50 (pictured here) make a wonderful gift that keeps giving.  You can also volunteer your time to help support this worthy cause.
All MOC Marine Institute stranding response and rescue activities authorized under NOAA Permit: 21260.
Please watch the video of MOCMI returning injured juvenile green sea turtle to the ocean.
Make MOCMI Donations- Here

Purchase a sea turtle adoption package- Here
Volunteer for MOCMI- Here
Together, we can make a difference!  When you make a donation to MOC Marine Institute, you can ensure that every dollar is working towards advancing our mission of inspiring lifelong environmental stewardship, and ensuring the survival of coral reefs and sea turtles in Hawaiʻi.
Find other local non profits to volunteer or donate to Here.