Maui is one of the most remote locations on our planet.  And with our unique location we have many animal species unique to our islands.  For bird watchers, Maui offers a very special opportunity in the viewing of rare and endangered species.
Maui Forest Bird Recovery Project (MFBRP)  offers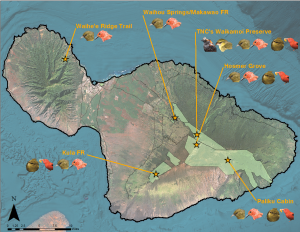 amazing support and information about protecting our native species and habitat.  They provide information on native birds, their habitat and preservation.  They welcome bird and nature enthusiasts to volunteer to help with maintaining habititats including planting trees.  They also offer internships for committed individuals.
Maui Forest Bird Recovery Project also shares wonderful resources for birding on Maui.  If you are adventurous and would like to go birding on your own, here is a map of some of the locations on Maui where one can see Hawaiian Honeycreepers. There are some additional areas not on this map, for instance along the Hāna Highway one can hear Hawai'i 'Amakihi.
For those of you wanting a guided experience, Explore Maui Nature has the only bird watching tours guided by your own wildlife biologist.  They offer hiking adventures and can be customized for your interests.
You can also check out Sounds Hawaiian to hear the native call of Maui birds.  This website gives you audio recordings of the unique and rare birds found on Maui and other Hawaiian islands.
Whether you are a casual observer or a bird enthusiast, Maui has much to offer with her rare and beautiful birds.  Take a moment next time you are in nature to listen and look for these wonderful creatures.  You'll be amazed by these beautiful birds!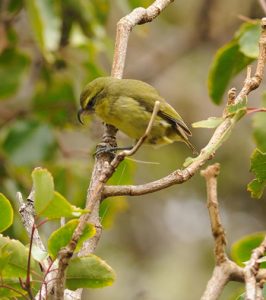 Check out Maui Forest Bird Recovery Project fund raising event Here.
Check out opportunities to volunteer for Maui Forest Bird Recovery Project Here.
Check out other opportunities to volunteer on Maui Here.
All photos courtesy of Maui Forest Bird Recovery Project.  Mahalo