5 Tips For Perfecting Your Surfing Stance- Hang Loose Surf Club, Lahaina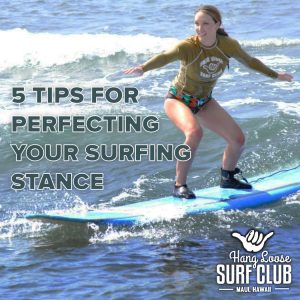 Hang Loose Surf Club is a native-Hawaiian owned and operated business with a mission is to give you the best Hawaiian surfing experience possible.
Hang Loose Surf Club in Lahaina has world-class instructors that are experts at getting you out on a surfboard and keeping you upright with a smile. Check out their five tips for perfecting the stance you'll be using atop our world-famous waves of Maui.
1. Get Sideways!
You want your chest facing the side of the board, not the front. A sideways stance is key to maintaining balance. So leave your face-forward skiing stance behind, my friend – you're in Maui now.
2. Get Centered!
Imagine a line running from the tip of the surfboard to its tail, cutting it in half. You want the arches of your feet to be dead-center on that imaginary line. You might even have an actual line there to guide you. Lucky!
3. Get Wide!
Place your feet a little wider than shoulder-width apart. Your back foot should remain at ninety degrees, perpendicular to the board. Your front foot should turn diagonally towards the front of the board, putting it at forty-five degrees. The wide base and foot positioning create maximum balance and flexibility, ensuring more Maui surfing and less Maui swimming.
4. Get Bent!
Keep your knees bent, and make sure they're bending inward. If you've played sports before, you were likely taught to crouch with your knees out, not in. Sorry, Coach! Compressing with your knees angled in keeps your body mass more compact, which keeps you more in control of the board.
5. Get Loose!
Keeping your chest sideways, turn your arms forward and align them with the sides of the board. Keep your arms wide and keep them loose. This will allow you to maintain balance and, as a result, appear much more impressive in photographs.
Let Maui's own Hang Loose Surf Club show you these tips in person!  They are your spot for the best surf lessons in Lahaina. They offer group lessons and private lessons in both surfing and stand-up paddle boarding (SUP). Whether it's individual or family surfing lessons you're after, let their expert instructors introduce you to the joys of surfing in Maui.
Check out their Special Offers Here!