11 Items to Consider Packing for Your Trip to Maui
Maui vacation coming up? Get packing! What to Bring.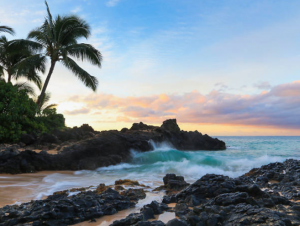 So, you have decided to visit Maui! Maybe for the first time or maybe you visit frequently. You have reserved the perfect Hotel or Bed and Breakfast, the Rental car is all lined up, and Plane tickets?  Yes!
To ensure your time in Maui is the best it can be read on to find out what you will want to have and why. I didn't bother listing all the stuff you need, you know the stuff you have to have no matter where you go, things like toothpaste, medicines, and identification.
Here are the items that deserve serious consideration when filling up your suitcase.
1. Comfortable footwear –
Keep the feet happy and the body will follow. On Maui, we wear slippahs, (aka flip-flops, thongs) almost exclusively. If you are self conscious about your feet you may want to get a pedicure before your trip. Guys this means you too. Slippers or slippah are great because they go on and off easily. We don't wear shoes in our homes here, if you are visiting the home of a local be prepared to leave your footwear at the door.
Water Shoes – Depending on the toughness of you feet and factoring in what you will be doing while you are here you may need water shoes. The reef partially dies every time it is touched. Water shoes are not in invitation to go stomping around on our living creatures. They are for your protection if your foot accidentally touches an urchin. We have lots and lots of these spiny little animals and they can inflict quite a bit of pain no matter how gently they are touched.
You can also wear your waters shoes on some of the hiking opportunities here. Some hikes will take you across some sharp lava rocks and Maui's smoother black rocks can get uncomfortably warm on a sunny day.
When I am not barefoot, I wear either slippers or Keens. I like the protective toecap. The toecap is not the prettiest part of the shoe but it protects my little piggies every time I trip on a root or a rock. The KEENs are great too because you can walk in the waterfalls with them on and pebbles can find their way out easily. That being said the pebbles get into the KEENs really easily too. So the water shoe may be better, either way there is a choice to make. It is great to have options.
2. Comfortable clothing –
You may go your entire vacation and not see anyone wearing a belt or a tie. Lots of short sleeve cotton button down shirts will be seen for sure. We wear shorts, skirts, or sarongs. Having a few really nice casual outfits for dining or going to a luau is also recommended. Oh and keep your swimsuit with you at all times.
Sarong or sarongs, you can never have too many! They are great for wearing, obviously, but did you know they are great for drying off, or sitting on, and even to wrap your hair up and out of your face. There is a bit of skill involved for this last one. Sarongs can be used to carry fruit home from the garden and they can be tied up to provide a little shade. I could go on an on….
3. Sun Protection –
Some sun exposure is good and too much is painful. Hats, polarized sunglasses, rash guards, and sarongs will offer ample protection. If you must wear sunscreen, and you care about the health of the island the sunscreen you choose has to be reef safe. Reef safe sunscreen is zinc based and safer for people and the reef. The chemicals from sunscreen and other things have really taken a toll on the wildlife surrounding the Hawaiian islands. If you are not sure about the sunscreen, no worries, you will have many very good quality sunscreens that smell like heaven available to you once you arrive. Be sure to insist on the one that is safest for the reef.
4. Photos –
Let's talk memories! A waterproof camera with a floaty strap should do the trick. You can take it into the waterfall for the waterfall kiss photo. You can swim with it and take pictures of the tropical fish. You can take photos inside small waves that make the waves look huge. Lots of rainbows to get pictures of her too, we get them two at a time, see the double rainbow!
5. Waterproof case for your phone –
Whether at the beach, hiking to a waterfall or just walking in a passing rain shower, you'll want to protect your tech!
6. Reusable water bottle –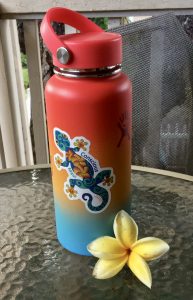 Staying hydrated is essential for having a good time. Buying single use plastic water bottles is uncool. Remember for water in plastic bottles to arrive to Maui it spends a month in a hot shipping container while crossing the Pacific. How many plastic chemicals do you want leached into your drinking water? All of them? Then your in luck! Yuck – no thanks. Live a better life and bring your own canteen or you can find a super groovy Maui bottle in one of our stores. The glass cobalt blue ones are really popular and so is a Hydroflask personalized with stickers of your choosing. Fun!
7. Reusable Shopping Bags / Beach Bag –
This is another great souvenir item. We love our reusable bags here.  So many great cloth bags available with Maui turtles or Maui whales or Maui store logos printed on them. If you forget yours, we got you covered.  And the shopping bag can be used as a beach bag or for hiking adventures. Double duty bag – I love it!
8. A lightweight jacket or hoodie –
It can get a bit cool in the evening, especially at slightly higher altitudes. The higher up you go the cooler it can get.
9. Winter wear –
Planning on catching a sunrise at the summit of Haleakala? Dress warm, it gets cold and often wet at 10,023 feet above sea level. The temperatures can dip down to about 30° Fahrenheit (-1°C) Also, there is a good chance there will be some wind up there. If it is not windy at the summit the wind will eventually find you. Check the weather before going.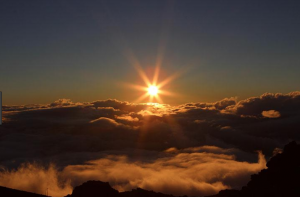 10. Rain Jacket –
Going to Hana? Notice how green it is, that is because it rains everyday.  Somewhere on Maui it is raining maybe only for a very short time, but rain will happen. If you are okay with getting wet then no need for the rain jacket maybe the sarong will do the trick to keep you dry enough, works for me! The rain brings the rainbows and Maui has some of the best rainbows ever seen!
11. Haircare –
Wind, Sun, and Sand can make a mess out of hair, particularly if you have longer hair. Remember to use a good quality conditioner while you are here. You may even consider using a leave in conditioner. A little bit of coconut oil can also be used, this coconut oil trick can fail making the hair too oily if not done right but it will wash out, it's okay … You are on Maui!!!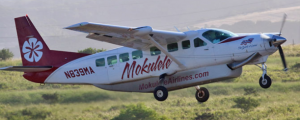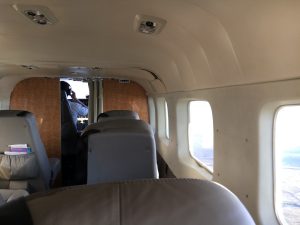 Are you going to do some island hopping? 
You may need to book an inter-island flight. Look into flights with the Kahului commuter terminal and save time. The planes coming and going from commuter terminal are small, no on board toilet or drink, so make sure you bring any items you may need for the short flights. And you will need to be able to walk up stairs sometimes in very strong winds to get into the plane. If you are comfortable with small planes this may be an option worth looking into. On Maui, you always want to bring your sense of adventure!
International travelers it may be helpful to know a few extra bits of info.
-Using public toilets or bathrooms are free and toilet paper is provided… usually.
-As far as money goes, Hawaii uses U.S Currency, the dollar, and almost every business on the island will accept Credit Cards and Cash, there are some exceptions, farmers markets and fruit stands will likely take cash only.
-Hawaii uses the same power outlets as the continental US, which are probably not what you have at home.
Hopefully this list is helpful enough that you are prepared but didn't ruin any surprises. You will have a great time here.  The only thing you absolutely must bring is your smile, 1-11 are negotiable. We are looking forward to seeing you, remember to like us on Facebook and share our page with your friends.
You may also be interested in our "Feeling Amazing Maui Style" post.
And don't forget to keep https://www.consciousmaui.com bookmarked on your phone, tablet and laptop. Use the "Search" box in the footer to find restaurants, activities, events and even volunteer opportunities while you are here.